Posted on December 18, 2020 - 8:42am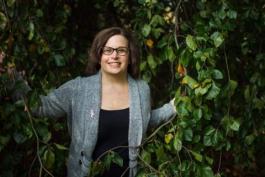 Right before I had the seizure that led to the diagnosis of my lung cancer, I called 9-1-1. I'm a nurse, so I knew something was very wrong. Prior to the seizure, I had been feeling fatigued, having worsening migraines, and losing weight for months; I had been caregiving for a family member, however, so I had chalked it up to stress and exhaustion from the extra responsibilities. Little did I know, I had a large mass in my brain.
After my seizure, I was taken to the ER, where it was assumed I had a stroke. After they scanned my head and found the mass, they continued to scan and found another mass in my lung.
Being diagnosed with anything in the ER is not ideal. The doctors are focused on getting to the root of your symptoms rather than about what comes next. No one really explains everything to you, such as about biomarkers and treatment options.
Luckily, I did see an oncologist, who performed a bronchoscopy while I was still an inpatient. I was diagnosed as stage IV EGFR exon 19 deletion. The doctors told me I had six months to a year, at best, to live.
At first, I couldn't wrap my head around it.  I kept thinking: I'm 36 years old and a non-smoker; I don't have lung cancer. It has to be a mistake! However, I have learned over time I am the face of lung cancer. I grew up in a coal mining region. There is a lot of environmental exposure that we didn't even take into consideration at the time. 
The most difficult part of my diagnosis was trying to tell everyone. It is really difficult to not start crying when trying to tell someone you have a terminal disease. I have never been one to broadcast my life on social media, but I eventually found it easier to let some people know that way. Even now, when I'm going to scans, that's how I update people. If you are newly diagnosed or facing a progression and struggling how to tell people, I would suggest reminding people there is always hope, and they should never lose that, even with bad news.
I was put on a targeted therapy for about 14 months before I progressed. The drug had a lot of side effects, mostly cosmetic. I lost all of my hair. I had a lot of acne. It was difficult to deal with. I didn't like looking at myself. I was also never hungry and still losing weight. It left me extremely tired. I am grateful for this drug, however, because it was a stepping stone to my next treatment, which I am still on today and has significantly less side effects.
If you don't know anyone affected by lung cancer, you might be surprised by the responses I get when people find out I am living with the disease; those who are affected, though, won't be surprised. People ask me how long I have left. They ask me if I smoked. I try to not respond with anger to these questions; after all, I too had a hard time believing I had lung cancer, as a young non-smoker. Instead, I try to educate them: anyone with lungs can get lung cancer. I explain my story: I was very active, I exercised, I ate healthy; none of that mattered.
If you are newly diagnosed or feeling isolated, the best advice I can give you is to find other survivors to connect with. It can be really difficult to know where you fit in after a diagnosis.  It was life-changing for me to meet other lung cancer survivors,  who had the same fears and worries as me. Just being able to connect and say, "oh yeah, I went through that and this was my experience" and have someone understand. 
There are a lot of different ways to connect. Initially, I was connected with a mentor through LUNGevity's LifeLine program. As someone newly diagnosed, it was amazing to see someone living with stage IV lung cancer. Since, I have connected with survivors in person, at events like ILCSC (previously HOPE Summit) and virtually, through LUNGevity's Virtual Meetups. There are also different online forums, such as private Facebook groups and the Lung Cancer Support Community message board, where people discuss their experiences, share what they've learned, and just generally support people. It's a great place to start if you aren't sure you're ready for a personal connection.
It might sound strange, but there are some silver linings to my diagnosis. Being diagnosed with lung cancer has made me more confident. I'm more willing to take risks. I just recently built a house during the pandemic. The house wasn't even built when I bought it, but I saw the blueprints and knew I wanted it. That's something I never would have done before my diagnosis. It's been an adventure to move during a pandemic, but I'm still so happy I took the risk and did it.
Some final advice: don't lose hope. There are going to be bad days, and there are going to be bumps in the road; it's going to be a rollercoaster ride. But you can't give up hope. The treatment I am on now wasn't even approved when I was diagnosed three years ago. We aren't where we need to be, but we are taking steps forward, and that's reason enough to have hope.
Related Reading:
---
Tiffany Fagnani is a registered nurse case manager who works with medically complex patients.  She shares her story to be an empathetic ear to her patients.  She was diagnosed with stage IV lung cancer in the ED after having a seizure.  The following year after her diagnosis she was the guest speaker for her area's Breathe Deep event sponsored by LUNGevity.  Tiffany enjoys spending time with her brother (whom she was primary caregiver to prior to her diagnosis), traveling, yoga, and spending time with friends.
Blog category:
From the community
-> Diagnosed under 50
-> Survivorship