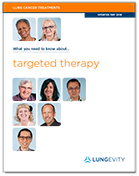 To help you understand and share this information, you can request our free booklet that summarizes the detailed information in the following sections. (This booklet was produced in May 2018, before the approval of several new targeted therapy drugs. Information about these drugs can be found in this section of the website.)
Targeted therapy is a type of treatment that uses drugs to attack cancer cells, including some kinds of lung cancer cells. As scientists have learned more about the driver mutationsA change to the DNA of cancerous cells that is considered to have been a cause of the development of the cancer and has helped the cancer cell to grow. Different from a passenger mutation in cells that cause cancer, they have been able to develop drugs that directly target some of these mutations. These drugs target specific parts of cells and the signals that proteins send to cells that cause them to grow and divide uncontrollably.
For more information about the driver mutations that can cause lung cancer and biomarker testingTesting for any unique changes to the DNA or other biomarkers found in a person's cancer. The information is used to identify and create targeted therapies that are designed to work for a specific cancer tumor profile to determine the presence of driver mutations and help make lung cancer treatment decisions, go to Biomarker Testing.
Find out below about what targeted therapies are, what targeted therapy treatment options are available now, and whether targeted therapy might be a good treatment option for you.
What are targeted  therapies?
Kinase inhibitors
ALK inhibitors
EGFR inhibitors
ROS1 inhibitors
BRAF V600E combination inhibitor
NTRK inhibitors
Which driver mutations identified in lung cancer are being studied in clinical trials?
Resistance to tyrosine kinase inhibitors (TKIs)
Finding a clinical trial that might be right for you
Why do you recommend a targeted cancer therapy for me?
What mutation do I have?
What kind of targeted cancer therapy will I get?
Will targeted cancer therapy be my only treatment or will it be combined with another treatment?
How often will I take this therapy and for how long?
How and when will I know if the treatment is working?
How often do I need to be seen between treatments for a physical exam and/or lab work?
Can I expect to see changes in my lab results while on this treatment?
Are there any tests or procedures I will need during the treatment?
What side effects can I expect?
What can I do to manage these side effects?
How will this treatment affect my daily life? Will I be able to work, exercise, and perform my usual activities?
What tests will I need after treatment is completed?
Are there any long-term health issues I should expect from treatment with targeted therapy?
How much will my treatment cost?
Updated September 16, 2019
---
References
Abramson RG. Overview of Targeted Therapies for Cancer. My Cancer Genome website. http://www.mycancergenome.org/content/other/molecular-medicine/overview-of-targeted-therapies-for-cancer. Updated May 27, 2019. Accessed July 24, 2019. 
Targeted Cancer Therapies. National Cancer Institute website. https://www.cancer.gov/about-cancer/treatment/types/targeted-therapies/targeted-therapies-fact-sheet. Updated June 25, 2019. Accessed July 24, 2019.
NCI Dictionary of Cancer Terms. National Cancer Institute website. https://www.cancer.gov/publications/dictionaries/cancer-terms. Acccessed July 24, 2019.
ClinicalTrials.gov. US National Institutes of Health website. https.clinicaltrials.gov. Accessed July 24, 2019.
Hirsch FR, Suda K, Wiens J, Bunn PA, Jr. New and emerging targeted treatments in advanced non-small cell lung cancer. Lancet. Sep 3 2016; 388(10048): 1012-1024. Accessed July 24, 2019.
Shaw AT, Solomon B. Anaplastic lymphoma kinase (ALK) fusion oncogene positive non-small cell lung cancer. Uptodate website. https://www.uptodate.com/contents/anaplastic-lymphoma-kinase-alk-fusion-oncogene-positive-non-small-cell-lung-cancer. Updated Jun 21, 2019. Accessed July 24, 2019.
Alecensa® (alectinib) capsules [package insert]. Genentech, Inc. South San Francisco, CA. http://www.gene.com/download/pdf/alecensa_prescribing.pdf. Revised June 2018. Accessed July 24, 2019.
Alunbrig® (brigatinib) tablets [package insert]. ARIAD Pharmaceuticals, Inc., a wholly owned subsidiary of Takeda Pharmaceuticals Company. Cambridge, MA. http://www.accessdata.fda.gov/drugsatfda_docs/label/2017/208772lbl.pdf. Revised April 2017. Accessed July 24, 2019.

Zykadia® (ceritinib) caps

ules [package insert]. Novartis. Basel, Switzerland.

https://www.accessdata.fda.gov/drugsatfda_docs/label/2017/205755s011lbl.pdf.

Revised November 2017. Accessed July 24, 2019.

Xalkori® (crizotinib) capsules [package insert]. Pfizer, Inc. New York, NY. http://labeling.pfizer.com/showlabeling.aspx?id=676. Revised June 2019. Accessed July 24, 2019.
Lorbrena® (lorlatinib) tablets [package insert]. Pfizer, Inc. New York, NY. https://www.accessdata.fda.gov/drugsatfda_docs/label/2018/210868s000lbl.pdf. Revised November 2018. Accessed July 24, 2019.
Nausea and Vomiting. Cancer.Net website. https://cancer.net/coping-with-cancer/physical-emotional-and-social-effects-cancer/managing-physical-side-effects/nausea-and-vomiting. Approved November 2018. Accessed July 29, 2019.
Diarrhea. Cancer.Net website. https://www.cancer.net/coping-with-cancer/managing-physical-emotional-and-social-effects-cancer/managing-physical-side-effects/diarrhea. Approved March 2019. Accessed July 29, 2019.
Constipation. Cancer.Net website. https://www.cancer.net/coping-with-cancer/physical-emotional-and-social-effects-cancer/managing-physical-side-effects/constipation.Approved October 2018. Accessed July 29, 2019.
Fatigue. Cancer.Net website. https://www.cancer.net/coping-with-cancer/physical-emotional-and-social-effects-cancer/managing-physical-side-effects/fatigue. Approved August 2018. Accessed July 29, 2019.
Fatigue (PDQ®)—Patient Version. National Cancer Institute website. https://www.cancer.gov/about-cancer/treatments/side-effects/fatigue/fatigue.pdf. Updated May 15, 2019. Accessed July 29, 2019.
Treatment Side Effects—Vision Changes. Health Union website. https://lung cancer.net/treatment-side-effects-vision-changes/. Reviewed January 2017. Accessed July 29, 2019.

Weickhardt AJ, Doebele RC, et al. Symptomatic reduction in free testosterone levels secondary to crizotinib use in male cancer patients. Cancer, 2013; 119(13):2383-2390. doi:10.1002/cncr.28089.

https://www.ncbi.nlm.nih.gov/pmc/articles/PMC3686910/

. Accessed July 25, 2019.

Zhang Y-L, Yuan J-Q, et al. The prevalence of EGFR mutation in patients with non-small cell lung cancer: a systematic review and meta-analysis. Onctotarget. 2016 Nov 29; 7(48): 78985-78993. doi: 10.18632/oncotarget.12587. https://www.ncbi.nlm.nih.gov/pmc/articles/PMC5346692/. Accessed July 25, 2019.

 Gilotrif® (afatinib) tablets [package insert]. Boehringer Ingelheim Pharmaceuticals, Inc. Ridgefield, CT.

https://www.accessdata.fda.gov/drugsatfda_docs/label/2018/201292s014lbl.pdf

. Revised January 2018. Accessed July 25, 2019.

Peng L, Song Z-G, Jiao S-C. Efficacy analysis of tyrosine kinase inhibitors on rare non-smnall cell lung cancer patients haraboring complex EGFR mutations. Scientific Reports 4. Article Number 6104. https://www.nature.com/articles/srep06104. Published August 18, 2014. Accessed July 25, 2019.

Vizimpro® (dacomitinib) tablets [prescribin insert]. Pfizer

Inc. New York, NY. https://www.accessdata.fda.gov/drugsatfda_docs/label/2018/211288s000lbl.pdf. Revised September 2018. Accessed July 25, 2019.

Tarceva® (erlotinib) tablets [package insert]. OSI Pharmaceuticals, LLC. Northbrook, IL.

https://www.gene.com/download/pdf/tarceva_prescribing.pdf

. Revised October 2016. Accessed July 25, 2019.

Iressa® (gefitinib) tablets [package insert]. AstraZeneca Pharmaceuticals LP. Wilmington, DE. https://www.accessdata.fda.gov/drugsatfda_docs/label/2018/206995s003lbl.pdf

. Revised August 2018. Accessed July 25, 2019.

Tagrisso® (osimertinib) tablets [package insert]. AstraZeneca Pharmaceuticals LP. Wilmington, DE. https://www.accessdata.fda.gov/drugsatfda_docs/label/2018/208065s008lbl.pdf

. Revised April 2018. Accessed July 25, 2019.

Skin Conditions. Cancer.Net website. https://www.cancer.net/coping-with-cancer/physical-emotional-and-social-effects-cancer/managing-physical-side-effects/skin-conditions. Approved April 2018. Accessed July 30, 2019.
Side Effects of Chemotherapy. https://www.cancer.net/navigating-cancer-care/how-cancer-treated/chemotherapy/side-effects-chemotherapy. Approved August 2017. Accessed July 30, 2019.
Appetite Loss. Cancer.Net website. https://www.cancer.net/coping-with-cancer/physical-emotional-and-social-effects-cancer/managing-physical-side-effects/appetite-loss. Approved February 2018. Accessed July 30, 2019.

Solomon, B. Validating ROS1 Rearrangements as a Therapeutic Target in Non-Small-Cell Lung Cancer. 

Journal of Clinical Oncology, 2015. doi. 10.1200/JCO.2014.59.8334. http://jco.ascopubs.org/content/early/2015/02/03/JCO.2014.59.8334.full. Published online February 9, 2015. Accessed July 25, 2019.
Bergethon, K, et al. ROS1 Rearrangements Define a Unique Molecular Class of Lung Cancers. Journal of Clinical Oncology, 2012. doi: 10.1200/JCO.2011.39.4197. http://jco.ascopubs.org/content/30/8/863. Published online January 3, 2012. Accessed July 25, 2019.
RozlytrekTM (entrectinib) capsules [package insert]. 2019. Genentech USA, Inc. South San  Francisco, CA. https://www.gene.com/download/pdf/rozlytrek_prescribing.pdf. Revised August 2019. Accessed August 16, 2019.
Lung Cancer and NTRK1 Fusions. Vanderbilt University Medical Center website. https://mc.vanderbilt.edu/ckm/gl/mutation_profiles/pdfopen.php?fnp=lung_cancer/content/NTRK1/Lung_Cancer_and_NTRK1_Fusions.pdf.  Updated March 2016. Accessed July 25, 2019.

Litvak AM, Paik PK, et al. Clinical Characteristics and Course of 63 patients with BRAF mutant lung cancer. 

Journal of Thoracic Oncology, 2015. 9(11): 1669-1974. doi: 10.1097/JTO.0000000000000344. https://www.ncbi.nlm.nih.gov/pmc/articles/PMC4251710/. Accessed July 25, 2019.
Tafinlar® (dabrafenib) capsules [package insert]. Novartis Pharmaceuticals Corporation, East Hanover, NJ. https://www.pharma.us.novartis.com/sites/www.pharma.us.novartis.com/files/tafinlar.pdf

. Revised May 2018. Accessed July 25, 2019.

 Mekinist® (trametinib) tablets [package insert]. Novartis Pharmaceuticals Corporation, East Hanover, NJ. https://www.pharma.us.novartis.com/sites/www.pharma.us.novartis.com/files/mekinist.pdf

. Revised May 2018. Accessed July 25, 2019.

Strategies for Managing Adverse Reactions. Novartis website. https://www.hcp.novartis.com/globalassets/products77/tafmek/pdf/Tafinlar-Mekinist-Digital-AR-Management-Guide.pdf. Copyright 2017. Accessed July 30, 2019.
Vitrakvi® (larotrectinib) capsules [package insert]. Loxo Oncology, Inc. Stamford, CT. https://www.accessdata.fda.gov/drugsatfda_docs/label/2018/211710s000lbl.pdf. Revised November 2018. Accessed July 25, 2019.
Dizziness or Lightheadedness. Cancer.Net website. https://www.cancer.net/coping-with-cancer/physical-emotional-and-social-effects-cancer/managing-physical-side-effects/dizziness-or-lightheadedness. Approved July 2018. Accessed July 30, 2019.
Tan WL, Jain A, Takano A, et al. Novel therapeutic targets on the horizon for lung cancer. Lancet Oncol. Aug 2016;17(8):e347-362. https://www.thelancet.com/journals/lanoncl/article/PIIS1470-2045(16)30123-1/fulltext. Accessed July 30, 2019.
Camidge DR, Pao W, Sequist LV. Acquired resistance to TKIs in solid tumors; learning from lung cancer. Nature Reviews Clinical Oncology, 2014; 11:473-481. doi:10.1038/nrclinonc.2014.104. http://www.nature.com/nrclinonc/journal/v11/n8/abs/nrclinonc.2014.104.html. Accessed July 31, 2019.
Chong CR, Jänne PA. The quest to overcome resistance to EGFR-targeted therapies in cancer. Nature Medicine, 2013; 19:1389-1400. doi:10.1038/nm.3388.https://www.ncbi.nlm.nih.gov/pmc/articles/PMC4049336/

. Accessed July 30, 2019.

Marcoux N, Gettinger SN, et al. EGFR-Mutant Adenocarcinomas That Transform to Small-Cell Lung Cancer and Other Neuroendocrine Carcinomas: Clinical Outcomes. J Clin Oncol. 2019 Feb 1; 37(4) 278:285. doi: 10.1200/JCO.18.01585. Accessed July 31, 2019.
McCoach D, Le AT, et al. Resistance Mechanisms to Targeted Therapies in ROS1+ and ALK+ Non-small Cell Lung Cancer. Clinical Cancer Research; 24(14) July 15, 2018. http://clincancerres.aacrjournals.org/content/clincanres/24/14/3334.full.pdf. Accessed July 31, 2019.
Sequist LV, Waltman BA, Dias-Santgata D, et cl. Genotypic and histological evolution of lung cancers acquiring resistance to EGFR inhibitors. Sci Transl Med. Mar 23 2011;3(75):75ra26. https://www.ncbi.nlm.nih.gov/pmc/articles/PMC3132801/. Accessed July 31, 2019.
Ko B, Paucar D, Halmos B. EGFR T790M: revealing the secrets of a gatekeeper. Lung Cancer (Auckl). 2017; 8:147-159. Published online Pctpber 9. 2017. doi: 10.241/LCTT.S117944. https://www.ncbi.nlm.nih.gov/pmc/articles/PMC5640399/. Accessed July 31, 2019,