Posted on December 1, 2020 - 8:19am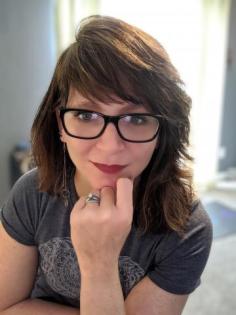 I call myself The Designated Thriver. I was diagnosed at 34 with stage IV ALK+ non-small cell lung cancer (NSCLC).  No one knew what to make of me or my symptoms, which were so mild that they went undetected.  Plus, there was no way ANYONE would ever think to screen a young woman for lung cancer.  It wasn't until a brilliant primary care physician ordered a chest x-ray and revealed I had been living, hiking, and snowboarding with only one lung that I was finally diagnosed.
When you are diagnosed with cancer, it makes you question everything.  Hearing the words "you have cancer" feels like ripping your identity away. Are you still a wife? A mother, a daughter, a friend?  Or are you now a wife with cancer? A mother who has cancer?  The daughter who was diagnosed with cancer? I lost my sense of self between being diagnosed and those first three years of just…surviving. I was not LIVING my life. I was forced to answer the question: is surviving really living your best life?
I will never be in remission, cured, or cancer-free. I am a mutant and this genetic alteration means that I am incurable. I'm nearing the 5-year survivorship mark.  Statistically, I'm stepping over the threshold of my life expectancy.  I'm also on my last line of treatment for my mutation.
All cancer patients fear progression. Treatment failure.  I am no different. I had to face this, the biggest challenge of my journey,  in August 2019.
That summer, I had sudden and severe disease progression. I was on a dog walk and became disoriented to the point that my dogs walked ME home.  As I was attempting to tell my wife that I was getting a migraine and as she was trying to get me to walk into our house (to go to the ER), I slipped out of her grasp with the first of three seizures.
My treatment hadn't been keeping my cancer under control and the tumors in my brain were "innumerable" and growing down my brain stem.  They were the cause of my seizures and what forced me to fall over and crack my head open on the concrete patio. 
That day, my wife literally saved my life.  We talk about that trauma from the patient perspective, but sometimes forget the the caretaker perspective. You are skating through life as a partner, a wife, and the next thing you know, you must immediately change hats from "partner" to "caretaker" (and that is a tricky balancing act).
I woke up in that hospital bed with 8 staples in my scalp, clothes that had been cut away, and my first coherent thought was: "I'm not doing cancer life the way that serves me and my community."
So, I set out to change the face of a lung cancer patient, to change the dialogue, and to advocate. More than those external actions, internally I changed everything.  Mindfully, purposely and sometimes exhausted, nauseated and rail-thin, I decided that we - as cancer patients, cancer survivors, cancer thrivers (choose your flavor) - ought to be invited into our own healing and health journey. To bridge the gap between 'patient' and 'person'.  To draw forward the parts of ourselves that are our core values.  To stitch that together with who we are today and envision ourselves in the future.  To build a bridge from Western medicine 'cancer patient' to an authentically living kick-ass cancer thriver.
A human being who has it all. Balance. Harmony. Authentic. Brave. Resilient. 
The weekend I was diagnosed with lung cancer, I hiked St. Mary's glacier here in Colorado, and when we reached the top, I thought to myself I've got this. Since then, I have focused on LIVING. Today, you will find me somewhere outside, laughing at my dogs, loving my wife, and happy with life.
Hear more from Heather on her Instagram @foxxnsoxx or by reading her blog.
Related Reading:
---
Blog category:
From the community
-> Diagnosed under 50
-> Survivorship