Finding lung cancer early, when it is easiest to treat, can save lives.
Currently, only 16% of lung cancers are diagnosed while the tumor is still in its earliest stagesThe extent of a cancer in the body of growth (localized).1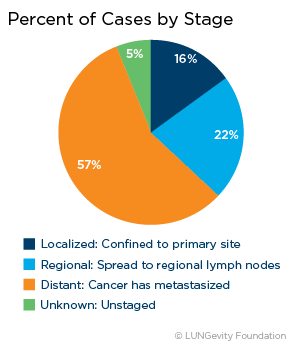 One of the challenges for finding lung cancer early is that most people with lung cancers only have symptoms when they are in later stages of disease. Screening for lung cancer means using tests or exams to look for cancer before a person has any symptoms of the disease.
Another challenge has been that conventional chest X-raysA type of high-energy radiation that can go through the body and onto film, making pictures of areas inside the chest, which can be used to diagnose disease often miss early-stage lung cancers.
High-resolution low-dose CT scanningA procedure that uses a computer linked to an X-ray machine to make a series of detailed pictures of areas inside the body, which is much more sensitive, is now recommended for early detection in high-risk individuals.
But many people who develop lung cancer do not fit the high-risk profile, like never-smokers, people under the age of 55, or people who quit smoking a long time ago.
The ultimate goal is to develop a reliable and broadly available test for lung cancer that can catch the disease early even in people not considered high-risk.
Who should be screened for lung cancer?
How is screening done?
What else should you know about screening?
Choosing a screening center
What happens if a nodule is detected during screening?
Latest research in lung cancer screening
Updated February 8, 2018
---
References