Posted on November 18, 2020 - 2:04pm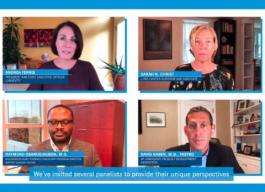 Learn more about the role of comprehensive biomarker testing and precision medicine in lung cancer treatment and care in this panel discussion brought to you in collaboration with Genentech. The panel includes Andrea Ferris, CEO and President of LUNGevity; Sarah Christ, lung cancer survivor and advocate; Dr. Raymond Osarogiagbon, MD, Multidisciplinary Thoracic Oncology Program Director, Baptist Cancer Center; and David Raben, MD, FASTRO, VP Oncology Product Development, Genentech.
During the discussion, Sarah shares her personal experience being diagnosed with lung cancer and tips for those newly diagnosed, Dr. Osarogiagbon provides a detailed explanation of biomarkers and the value of testing, and Dr. Raben stresses the importance of biomarker testing to ensure "no cancer patient gets left behind."
The video includes a message of hope. Dr. Osarogiagbon says there are reasons to be hopeful for the future of lung cancer as "the story of lung cancer increasingly becomes the story of survivorship."
Watch the video to learn more about biomarker testing, precision medicine, and available resources.
Want to learn more about biomarker testing? Check out LUNGevity's comprehensive biomarker testing resource.