Shared Decision Making projects focus on understanding what the major information needs of lung cancer patients and their caregiver are along the lung cancer journey – including screening, treatment, and survivorship.
LUNGevity Foundation believes that all lung cancer patients should receive "patient-centered" healthcare. This means "care that is respectful of and responsive to individual patient preferences, needs, and values and ensures that patient values guide all clinical decisions."
Effective patient-clinician communication and shared decision making are the basic tenets of patient-centered care. Only an educated and empowered patient can engage in shared decision making.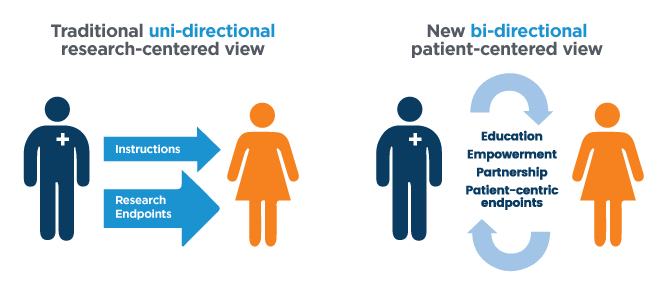 It is easy to assume that lung cancer patients have access to the latest information—specifically, information that is customized to their type, their stage, and where they are in their treatment. Based on informal surveys of patients, LUNGevity has found that patients, in fact, receive very limited information when they are diagnosed with lung cancer and throughout their lung cancer journey.
Without help in finding credible information, patients and their families can be left frightened, overwhelmed, and confused when navigating their lung cancer diagnosis. Until we understand why patients are not receiving information, we will not be able to get the appropriate materials to them. In addition, patient information needs may vary based on age, geographic location (ease of access to community resources), socioeconomic status, and level of health literacy.
Projects include:
Reaching the Unreached – In progress
To understand how information on lung cancer is disseminated, LUNGevity conducted a pilot quantitative study to understand what types of information patients and their caregivers receive, in what format, and at what points during their lung cancer journey. LUNGevity also sought to find out preferred formats for receiving information on lung cancer. Results can be found here.
Project ACTS (Adherence to CT Screening) – Conducted in collaboration with University of Kentucky and Moffitt Cancer Center - In progress