Posted on January 12, 2021 - 5:24pm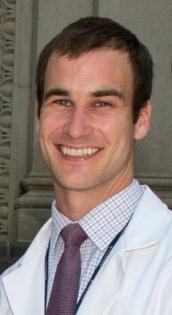 Over the past several years, Jeffrey Thompson, MD, MS, watched eagerly as checkpoint inhibitors, immunotherapy drugs that take the brakes off the immune system to allow the body to fight disease more efficiently, were approved in the front-line setting for lung cancer. However, a question kept nagging at the back of his mind: Why do approximately 40-50 percent of advanced-stage non-small cell lung cancer (NSCLC) patients respond so well to immunotherapy while others do not?
Dr. Thompson felt that there should be a way to identify which patients are likely (or are not likely) to benefit from immunotherapy so that physicians can optimize their treatment plans. His interest in the development of biomarkers in lung cancer, combined with his position as an assistant professor of Medicine at the Hospital of the University of Pennsylvania, has allowed Dr. Thompson to work on developing a test to identify key biomarkers within advanced-stage non-small cell lung cancer tumors that could predict patients' outcomes on different treatment regimens.
"The types of cells and their functions within the tumor are likely to be critical in understanding a patient's response to therapy—immunotherapy, in particular," says Dr. Thompson. While current laboratory tests allow researchers to study four or five biomarkers at a time, Dr. Thompson wanted to do a "deeper dive" and exponentially expand our understanding of lung cancer tumors using cutting-edge technology to study 20 biomarkers at a time. By correlating the information with patient outcomes, Dr. Thompson is hopeful that he will be able to identify biomarkers that could help guide treatment plans for patients.
"I am a pulmonologist who sees patients. Often, I am the one to take the tissue samples during a patient's biopsy and make the initial diagnosis," says Dr. Thompson, "This project seemed like a natural fit."
In 2018, he applied for and was awarded a Career Development award from LUNGevity to pursue his research. "It's not a clinical trial. I just approach patients we see in clinic, explain the research project, and ask if they would be willing to provide tissue for our research," he explains. "There's no pressure. Patients have the option to say yes or no. Fortunately, many of them say yes."
With tissue samples from fine needle aspiration, a type of biopsy, Dr. Thompson suspends the samples in liquid and then uses an advanced laboratory technique, multi-parametric flow cytometry, to study the diversity of cell populations in the biopsy samples and to identify the functions of those cells.
His goal is to correlate the cell types and cell functions within these biopsy samples with the outcomes of patients on immunotherapy to improve our overall understanding of the biological mechanisms of lung cancer and to gain insights into how tumors interact with the body's immune system. In addition, Dr. Thompson aims to identify important populations of cells that could be used as predictors of a patient's responsiveness to immunotherapy.
"I am deeply grateful to the patients who have participated in this study and to LUNGevity for giving me the opportunity to pursue this work," says Dr. Thompson, who ultimately wishes to establish his own laboratory as a physician-scientist studying predictive biomarkers in lung cancer. "We are in an exciting time when patients are starting to have more treatment options, and I am eager to play a role in helping to guide patients to the best treatment possible."
Learn more about immunotherapy in our comphrensive, medically vetted overview.
Related Reading:
---

Juhi Kunde, MA, is a science writer for LUNGevity.
Blog category:
From the experts
-> Biomarker testing
-> Research
-> Treatment