Posted on October 2, 2020 - 9:14am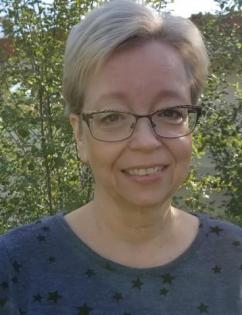 Editor's Note: This story was written in mid-September 2020.
I am a lung cancer survivor who has been living in California with my husband for several years now. I live in the northern part of the city of San Diego, somewhat inland, about 25 minutes to the beach. This year is the worst fire season we've had since we moved here in 2014.
Labor Day Weekend, the highs reached 118. This is when the Valley Fire broke out and smoke filled the sky and blocked the sun. It's nowhere near as bad as Oregon or the Bay Area, where the air quality is far worse, but we have an unhealthy haze. We have to avoid going outside.  We have keep the windows closed and can't use the AC. I can't go on my dog walks anymore. Try to explain to dogs why you can't play today; they don't appreciate that explanation.
Because of my lung cancer, I am much more sensitive to smoke now.  I can feel the garbage when I breathe in. One night, I slept with my window open; the next morning, I was coughing so much from breathing in the garbage all night, I knew I couldn't sleep with window open anymore. If I tried to go outside without a KN95 mask on, I would probably start coughing like crazy. And I am one of the lucky ones! My lung cancer is controlled and we have far less smoke than up north.
In addition to the smoke, we have to be prepared for emergency evacuations. Every year, my husband and I make sure to have suitcases packed by Labor Day Weekend for evacuation—clothes, toiletries, masks, first aid supplies, etc. We practice evacuating, and it takes longer than you might expect. So far, we've been lucky, but we have to stay alert because fire can blow up out of nowhere, particularly when Santa Ana winds come through.  If you smell smoke around here, that's when you have to start getting ready.
My neighbors have been evacuated at 4:30am in a past wildfire. It's disorienting when you have to wake up and are told to get out by the police. If we needed to evacuate, we have no idea how far we will need to go or where we will end up. Fires can jump freeway, so there's always the fear that we might not even make it out of the area.  (Pro tip:  when evacuating, blast your car's horn until you get to the freeway so people living along the route are alerted.)
The COVID-19 pandemic complicates an already complicated situation. It makes evacuation and escape even more difficult. Where we would go? What would we do? It limits our options and adds another layer of stress to it. When you're in an emergency like fire, COVID-19 isn't first thing on your mind; it's getting away and breathing fresh air again.
COVID-19 actually scares me out more than the smoke; at least the smoke for us is temporary. We have no idea when the pandemic will end. Some people just don't take this virus seriously. It's disheartening to see the number of cases rise. It just means we'll be living in this limbo even longer and take even more time to get through it.
COVID-19 makes living life during wildfires lonelier and scarier. We are facing major quality of life issues. All the things we used to do are a huge risk now because of COVID, and we can't think about ever doing them again. The pandemic is just so isolating. We used to spend time with friends every Saturday night and play cards. We can't play anymore.  Before the fires, we were beginning to have friends and family over on the patio, socially distanced with masks. Now, we can't even be outside because of the smoke and heat.
I've actually been self-isolating since December because I was afraid of getting the flu, so I'm used to it by now. I think the best advice I can give to someone worried about the pandemic is to avoid the news and watch Hallmark movies instead.
All joking aside, I'm very anxious about COVID-19 and mask wearing. I have nightmares and dream about it. To the people who aren't: please wear the mask. Wear a mask and protect others. Just because you're healthy doesn't mean you can't pass something on to someone who could die.  You can't look at someone and know they are sick. If I, as a lung cancer survivor, can wear a mask while walking my dogs, anyone can wear a mask.
I've been through almost anything you can think of (30 sessions of radiation and 6 rounds of chemo, esophagitis, severe deconditioning and dehydration, perforated sigmoid colon, sepsis, permanently paralyzed vocal cord), but 2020 has been a difficult year.  Luckily, my husband and I are preparers; we're always prepared for the worst. I'm prepared, but I'm also ready for the wildfires and COVID-19 to be over.  
Related Reading:
---
Judy Meyers is retired from a long career as a commercial real estate paralegal. For over 25 years, she worked in Lower Manhattan and is considered a 9/11 survivor. She was diagnosed with Stage IIIB lung cancer in October 2019 after losing her voice (due to vocal cord paralysis caused by a tumor). Judy is now enrolled in both the 9/11 Victims Compensation Fund and World Trade Center Health Program. She has 2 stepsons and one step-granddaughter. She and her husband also have 2 large dogs who enjoy morning walks in the neighborhood. 
Blog category:
From the community
-> Survivorship