Founder of Patient Advocacy Movement Recognized for Creating Change in Cancer Conversation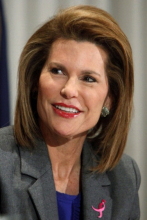 LUNGevity Foundation is proud to announce Nancy Brinker, founder of Susan G. Komen and LUNGevity's Honorary Leadership Board member, as the May LUNGevity Hero in recognition for her decades-long dedication and trailblazing work in the fight against cancer. A true pioneer of the advocacy movement, Ms. Brinker gave a national voice to cancer patients, their friends, and families and set a model for success for today's advocacy organizations around the world. Brinker's passion and leadership in the quest to bring an end to breast cancer resonated with millions, and mobilized women across the country to demand that breast cancer research be a key focus of the national healthcare agenda. Her belief in the power of grassroots efforts combined with corporate support helped to bring about a vital shift in our country's dialogue about cancer.
After watching her sister Susan lose her three-year fight with breast cancer, Brinker set out to raise funds to improve treatments and to open up the conversation, reducing the silence and stigma around breast cancer. The organization she created and named for her sister, the Susan G. Komen Breast Cancer Foundation, began in her living room with $200 and a shoebox filled with names to call for donations.
Under her leadership, Susan G. Komen has grown into the world's largest nonprofit funder of the fight against breast cancer, investing more than 2.6 billion dollars in groundbreaking research, community health outreach, and advocacy programming in more than 30 countries. In three decades, the organization has grown into an influential model for other cancer organizations in how to engage the grassroots, leverage vital corporate support, and execute successful cause marketing programs to fund meaningful mission programs. Nancy Brinker has been a generous teacher and ally, sharing what she has learned to assist emerging nonprofits. LUNGevity has built on that legacy, advocating for lung cancer patients, supporting critical research, and addressing the lung cancer stigma that remains today.
"LUNGevity Foundation is thrilled to name global cancer community leader Nancy Brinker as the May LUNGevity Hero for her unwavering dedication to changing outcomes for survivors and helping to put an end to the silence surrounding the disease," said Andrea Ferris, president and chairman of LUNGevity Foundation. "Nancy Brinker created the model for today's cancer communities, helping organizations such as LUNGevity make significant progress in the quest to end cancer. Susan G. Komen has had an important role in making cancer a national priority and we are fortunate to have such a strong and passionate leader beside us in this mission."
Brinker's leadership has been recognized nationally and internationally. She was appointed to the National Cancer Advisory Board by President Ronald Reagan, appointed to the three-member President's Cancer Panel by President George H.W. Bush, named Goodwill Ambassador for Cancer Control for the United Nations' World Health Organization, and in 2009, she was awarded the Presidential Medal of Freedom by President Barack Obama.
This weekend, Ms. Brinker will be speaking at LUNGevity's fifth annual Hope Summit in the nation's capital.