Jones brings extensive industry knowledge and marketing experience to support LUNGevity's strategic growth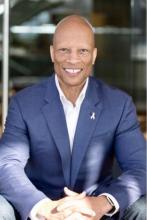 WASHINGTON, DC (May 26, 2020) — LUNGevity Foundation, the nation's leading lung cancer-focused nonprofit organization, announced today that William "BJ" Jones, Chief Commercial Officer, Migraine and Common Disease at Biohaven Pharmaceuticals, has joined LUNGevity's Board of Directors. His extensive commercial leadership experience at pioneering companies in the healthcare industry will provide strategic insight and guidance to the Foundation in its work of changing outcomes for people with lung cancer. 
BJ brings a global healthcare perspective with his experience in mass market product launches. His work successfully building and leading diverse teams across various therapeutic areas, including neuroscience, cardio-metabolic, respiratory, GI, and infectious disease, will assist LUNGevity in continuing to identify and address unmet patient needs in the lung cancer community.
"We are thrilled to have BJ join our Board," said Andrea Ferris, President and CEO of LUNGevity Foundation.  "He is an innovative leader in the pharmaceutical industry with important patient insights and expansive marketing and sales management experience. We are excited to have his unique perspective and expertise to help achieve LUNGevity's mission."
BJ is a seasoned pharmaceutical executive with two decades of commercial and neuroscience expertise in large pharmaceutical companies and small biotech firms. BJ has held leadership roles of increasing responsibility at Takeda Pharmaceuticals, AstraZeneca, Bristol-Myers Squibb, Boehringer Ingelheim, and NitroMed.
Prior to joining the pharmaceutical industry, BJ served in the U.S. Air Force and earned the rank of Major. He provided threat assessments to NATO leadership as an Engineering Analyst in the Foreign Technology division and led cutting-edge research in the Artificial Intelligence in Training program as a Function Chief in the AF Human Systems Division.
He holds a BS in Human Factors Engineering from the U.S. Air Force Academy, an MS in Industrial Engineering from Texas A&M University, and an MBA from Stanford Graduate School of Business.
LUNGevity looks forward to working with BJ to help improve outcomes for people affected by lung cancer.
About LUNGevity Foundation
LUNGevity is the nation's leading lung cancer organization investing in lifesaving, translational research and providing support services and education for patients and caregivers. LUNGevity's goals are three-fold: (1) accelerate research to patients, (2) empower patients to be active participants in their treatment decisions, and (3) remove barriers that patients face in accessing the right treatments.
LUNGevity Foundation is firmly committed to making an immediate impact on increasing quality of life and survivorship of people with lung cancer by accelerating research into early detection and more effective treatments, as well as by providing community, support, and education for all those affected by the disease. LUNGevity's comprehensive resources include a medically vetted website, a toll-free HELPLine in partnership with CancerCare®, a unique Lung Cancer Navigator app, peer-to-peer mentoring for patients and caregivers (LUNGevity LifeLine), and survivorship conferences. LUNGevity also helps patients find and navigate clinical trials through our Clinical Trial Finder tool, a Clinical Trial Ambassador program, and participation with EmergingMed.
Our vision is a world where no one dies of lung cancer. For more information about LUNGevity Foundation, a four-star Charity Navigator organization, please visit www.LUNGevity.org.
About Lung Cancer in the U.S.
About 1 in 16 Americans will be diagnosed with lung cancer in their lifetime
More than 228,000 people in the U.S. will be diagnosed with lung cancer this year
About 60%-65% of all new lung cancer diagnoses are among people who have never smoked or are former smokers
Lung cancer takes more lives than the next three leading cancers (colorectal, breast, and prostate) combined
Only 19% of all people diagnosed with lung cancer will survive 5 years or more, BUT if it's caught before it spreads, the chance of 5-year survival improves dramatically