Posted on September 21, 2020 - 3:22pm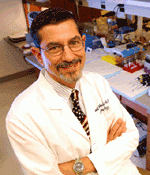 In this video from LUNGevity's 2020 International Lung Cancer Survivorship Conference, Dr. David Carbone helps to separate fact from fiction when it comes to lung cancer diagnosis and treatment. Dr. Carbone is the head of the James Thoracic Oncology Center at The Ohio State University and a member of LUNGevity's Scientific Advisory Board.
As Dr. Carbone points out, lung cancer and its treatments are complicated. Patients are forced to trust their lives to people they have never met before, and "there are lots of non-medical people and websites out there with their own opinions, and many of them have a profit motive."
Knowledge is power! Dr. Carbone shows how to use reliable information to tell the difference between hopeful treatments and those that are just hype.