Posted on July 4, 2018 - 7:09am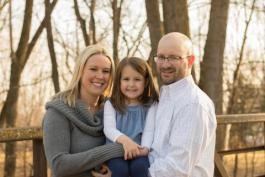 I was diagnosed on April 21, 2017, at the age of 31 with stage IV lung cancer. My primary diagnosis was right-middle and partial right-upper lobe with metastasis to my brain and mediastinum lymph nodes in my chest. Being a former collegiate and Olympic level athlete, and being in the military at the time of diagnosis, I was in great physical shape with little or no symptoms. It was a shock to be told I had the deadliest form of cancer* and that just 1% of patients with my diagnosis survive 5 years. Through the diagnosis process, it felt like a horrible dream and I continued to look to my faith to guide my emotions, decisions, and ultimately, my treatment plan.
On May 9, 2017, I began my first treatment, stereotactic brain radiation, to address the cancer in my brain. On May 10, 2017, I met my team at Mayo Clinic- Rochester, Minnesota, where I learned about targeted therapy for my lung cancer. My first blessing in this journey was completing genetic testing which identified two EGFR mutations: 19 and 21. The mutations were good news because targeted therapy (Tarceva) was available for the mutations identified. I have remained on Tarceva for the last 14 months and continue to have no evidence of disease (NED), which for lung cancer is the best possible outcome as the disease is terminal. Keeping it at bay until research finds options to make it a chronic disease is the goal.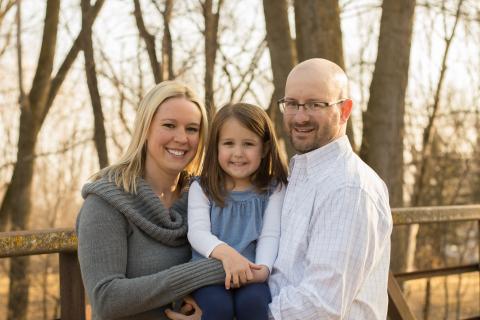 If I were to give advice to newly diagnosed patients, I would say believe in yourself, stand up for what you want and need, and most importantly, know that there is a huge support system and you are not alone! The first step to beating this disease is believing you can, and no matter how bad the doctors tell you it is, your fight is worth more than any doctor's words and statistics!
One of the major things I have learned through this journey is that "standard protocols" are not individualized care, and getting doctors to have a more personalized approach is all about advocating for yourself and ensuring you understand your body and needs. Side effects caused by treatment are considerable obstacles that come with battling for your life. The first significant side effect I dealt with was a horrendous rash. Initially I prayed for the rash to appear because that was the first sign the treatment was working, but unfortunately the blistering from the rash was so severe that I was unable to function in daily life. I was not able to care for my daughter, brush my hair, or wash my hands. Even putting on clothes was another struggle.
I was determined to beat this cancer from the beginning, so I continued to fight through the side effects, taking more medication to counteract the side effects, adding more stress on my mental, emotional and physical strength. At one point in my journey, I was taking nine medications and only one was for my cancer treatment; the rest were for side effect management. I spent more time managing drugs than I did living a normal life, waking up at all hours of the night to take another drug. Ultimately, in consultation with my oncologist, my treatment was reduced from the standard protocol to a lower level my body could manage and still battle the cancer while having a better quality of life.
As I reflect on this journey so far, the worst part has been dealing with side effects, lack of education during diagnosis, and constantly having to fight for information. The continued increase in medications to manage side effects instead of addressing my individual body needs caused a lot of unnecessary physical and financial burden as well as mental and emotional challenges. I believe if my medication was more individually focused for my body size and metabolism type, I wouldn't have had to take as much or as many medications.  I wouldn't have had as many emergency room visits and, most importantly, I wouldn't have such high medical costs burdening my family.
As my journey continues and I have transitioned from fear, anger, and confusion into trust, happiness, and survivorship, I have learned that lung cancer does not define me. Lung cancer does not limit my ability to achieve goals and, most importantly, lung cancer allows me to focus on others to help change the world.
Survivorship to many cancer patients is a very difficult challenge, especially for lung cancer patients when the statistics show a minimal survival rate. For me, I choose to look at survivorship as an opportunity to make change, educate others, live my best life, and most importantly be the voice for those who are unable to speak for themselves. 
One of the major battles we fight with lung cancer is the stigma that comes with it, the constant "how long did you smoke" and the inference that "you did it to yourself" that comes with it. The other major comment I have experienced is the constant you don't look sick, how can you exercise, and how can you be so happy. Life is a choice I have made, attitude affects how I survive each day.  For my daughter and family, I choose to fight and be happy and try to live a normal life to the best of my ability.
*https://lungevity.org/for-supporters-advocates/lung-cancer-statistics
Blog category:
-> Get involved
-> Survivorship
-> Diagnosed under 50