Tenacious Lung Cancer Survivor Fights for Her Life and the Lives of Others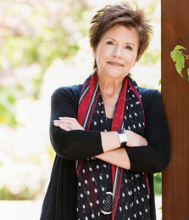 WASHINGTON, July 10, 2014 -- LUNGevity Foundation announces Bonnie J. Addario, a tenacious lung cancer survivor and advocate, as the July LUNGevity Hero for her work in raising awareness of the disease and funds for lifesaving lung cancer research, especially for early detection methods.
In late 2003, Bonnie saw her primary care physician and a neurosurgeon about sharp pain on the left side of her chest, but neither diagnosed it as lung cancer.  Only in October, when she went to a specialized facility in San Jose that offered tests, including CT scans, was the dark shadow on her left lung apparent. Bonnie was diagnosed with Stage 3B lung cancer.
The disease had already affected five people in her family, three of whom had died.  Despite her family history, she lacked knowledge of the disease.  Later this would inspire her drive to inform the public about lung cancer. She knew it was going to be a tough fight.  Her journey included radiation and chemotherapy treatments, a 14-hour long surgery, and countless side effects.
After her recovery, Bonnie joined the Thoracic Oncology Board at University of California at San Francisco and the Foundation Board of Sequoia to help inform others about the disease.  In 2006, she created the Bonnie J. Addario Lung Cancer Foundation, to further empower lung cancer patients. In 2008, she created ALCMI, a patient-centric, international research consortium.
"LUNGevity Foundation is thankful for the extraordinary work Bonnie Addario has done for lung cancer research and advocacy.  She has shown remarkable strength in her struggle against the disease and in her advocacy and support of others diagnosed," said Andrea Ferris, president and chairman of LUNGevity.  "Her story has touched many across the nation living with lung cancer and reminds us of the importance of remaining steadfast and passionate in raising awareness of the value of early detection technology."
For more on Bonnie Addario, visit LUNGevity Heroes Spotlight at http://blog.lungevity.org/2014/07/09/july-lungevity-hero-bonnie-addario/.
For more information on LUNGevity Foundation, please visit www.LUNGevity.org.
About Lung Cancer
1 in 14 Americans will be diagnosed with lung cancer in their lifetime.
About 60 percent of all new lung cancer diagnoses are among people who have never smoked or are former smokers.
Lung cancer is the leading cause of cancer death, regardless of gender or ethnicity.
Lung cancer kills almost twice as many women as breast cancer and more than three times as many men as prostate cancer.
Only 17 percent of all people diagnosed with lung cancer will survive 5 years or more, but if it's caught before it spreads, the chance for 5-year survival improves to 54 percent.
About LUNGevity Foundation
LUNGevity Foundation is firmly committed to making an immediate impact on increasing quality of life and survivorship of people with lung cancer by accelerating research into early detection and more effective treatments, as well as by providing community, support, and education for all those affected by the disease. Our vision is a world where no one dies of lung cancer. For more information about LUNGevity Foundation, please visit www.LUNGevity.org.