Strategic Collaborations
ALK Positive Provides Worldwide Information, Support and Empathy to all ALK Lung Cancer Patients and their Caregivers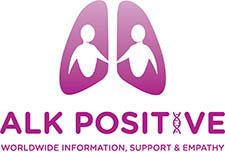 LUNGevity is proud to collaborate with ALK Positive, whose members—survivors and caregivers alike—are committed to raising funds for research to increase ALK-positive lung cancer survivability. Through our collaboration, ALK Positive will fund research into overcoming or preventing the mechanisms of resistance that develop on targeted therapies. This is the first time ALK patients will actually be able to influence the direction of research that will, one day, save their lives.
Learn more about the research fund here.
Partnerships
We believe it is important to work in partnership with other organizations to ensure the best possible outcomes for patients.
We are proud to collaborate with these organizations:
Memberships & Coalitions
We are a member of these organizations:
State Cancer Coalitions:
Community Partners



Media Partners