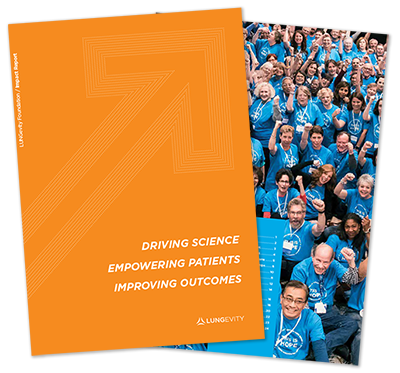 As the field of lung cancer research and patient care advances rapidly, more people are now living well with lung cancer than ever before. LUNGevity is proud of its impact on improving outcomes for lung cancer patients through a better understanding of diagnosis, treatment, and quality of life, as well as through driving research and policy reforms.
We are thankful for all of our constituents and partners who join us to make change happen – your investment in our efforts has contributed to our growth and impact on lung cancer and the people living with it.
Read our 2010-2018 Impact Report, which showcases the advancements of the Foundation's research programs, patient services, major initiatives, fundraising achievements, marketing reach, and more, and shows how these accomplishments help drive progress in all areas of the lung cancer field.
Help us create a world where no one dies of lung cancer! We have the greatest impact when we work together.