Posted on February 23, 2021 - 8:33am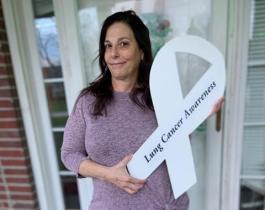 It's shocking how many people with lung cancer go through the same struggles I did to get diagnosed. Whether you have symptoms or not, it can take a long time to arrive at a lung cancer diagnosis. I had symptoms for about 3-4 months, which my primary care physician tried treating with antibiotics with no improvement. Finally, I asked her if it was time to see a specialist.
I saw a local pulmonologist, who sent me for the CAT scan that detected the abnormality on my lung. I had a needle biopsy, which was awful. They numb you, but want you to be awake to make sure your lungs are still fully open and not collapsing during the procedure. I found it very painful.  
About a week or two later, I was sitting on my bed on a Sunday morning, and I got a call from my thoracic surgeon's office. The young lady on the phone told me I had lung cancer and that I needed to make an appointment to see the surgeon about next steps. I was in shock. How could I have lung cancer? At the time, I didn't know anyone with lungs could get lung cancer. I had so many questions, but didn't even know where to begin, so I said, "Okay, thank you." And the woman said, "Great, have a good day!" That's how I found out I had lung cancer.
I had a lobectomy in March 2012. My surgeon was not fond of pain medications, which left me in excruciating pain. Recovery was very difficult. By the time I was finally healed, I was hoping to never have to go through anything like this again. I was ready to put lung cancer behind me.
I was NED (no sign of disease) for five years. I truly didn't think I would ever have to hear the words "you have lung cancer again." But in the summer of 2017, I had an accident that left me with a torn rotary cuff and pain in my chest. I had scans done and they saw something in my left lung where I had the lobectomy; it was a recurrence.
Again – I was shocked.  How can this be happening again? At this point, they didn't restage me. They didn't biomarker test me. Instead, the tumor board decided I needed radiation therapy, so I did 3.5 weeks of radiation and then surveillance every 3 months.
When I was initially diagnosed, and even at my recurrence, I didn't know a lot about lung cancer. My doctors didn't really give me a lot of information; they told me what was wrong and what we needed to do, but I wasn't really part of the decision-making. I didn't even know what questions to ask. I just did as they recommended.
Then I started to get really sick again. My doctors once again tried to treat me with steroids and antibiotics, but at this point, I knew it was time for me to take my care into my own hands. I went home and started researching. I got a second opinion, and it was this doctor who, in March 2019, diagnosed me as stage IV non-small cell lung cancer EGFR exon19 deletion. My new doctor put me on a targeted therapy, which thankfully I have been stable on for over 20 months.
After starting this new drug, I found a page on Facebook specifically for people on the same targeted therapy as me. Then, I found LUNGevity and the EGFR Facebook group. I read the posts in the group and felt inspired. I posted my own story, and a few people responded. This is how I began to build my community.
Now, I have a group of 10 lung cancer friends that live up and down the east coast. We're of a variety of ages and a variety of years since diagnosis, but all have similar stories of diagnosis and treatment of our lung cancer. In 2020, we were scheduled to visit Mary's Place by the Sea, a respite home for women receiving treatment for cancer in Ocean Grove, NJ. Unfortunately, the pandemic hit and we had to cancel. But we started zooming. This, in addition to LUNGevity's Virtual Meetups, have been amazing. We zoom every day of the week now.
It's everything to me to connect with people that have same diagnosis and same story. When I started talking to these women, it gave me a whole new sense of support, knowing that I had someone to talk to that was going through same things. Friends and family members can be supportive, but they will never know what it's like to be told you have lung cancer. They won't understand how it feels to live from scan to scan, to be on treatment for the rest of your life, to just go through what you have to go through with lung cancer. But the women I met on Facebook do.
Now, we share everything. It's a safe place to talk about whatever you need. We talk about what's going on with our lung cancer, but we also talk about our lives and our families. We laugh together, we cry together, and we even spend holidays together. In the winter of 2020, we zoomed on both Christmas and New Years Eve. We're a family. I don't think anything can ever change that.
To me, lung cancer survivorship is not just living with the disease, but also giving support to others. It means living every day the best that we can, but also doing whatever we can to support other survivors in their journeys and get support from them.
I am not a person who likes to ask for help. I never wanted to talk about my cancer, particularly to my family. I know how lost you can feel as a newly diagnosed person and how hard it is to ask for help, but support and community can change what it's like to live with cancer. If you are struggling to find this support, I recommend starting with just one person. I reached out to someone in the Facebook group to tell them how inspired I was by their long journey with the disease, and it started a chain reaction of support. Now, I have my community, and every day it grows.
Living with lung cancer is incredibly challenging, but the silver lining is the friends I've made in the lung cancer community. Lung cancer changed everything for me, but it also gave me some of the greatest friendships of my life.
I've become a lung cancer advocate. I am also a LifeLine buddy. I am able to help those newly diagnosed find their way through this disease. None of this would've happened if I hadn't connected with this amazing community on Facebook.
Related Reading:
---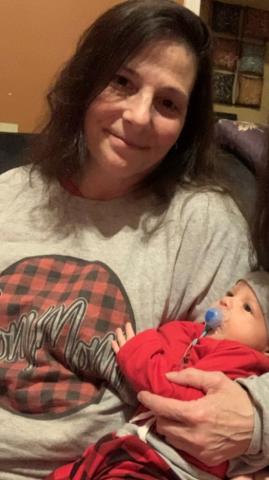 Valerie Brown, formerly Saltkill, was 49 years old when diagnosed with NSCLC adenocarcinoma. She is a former nurse who retired early due to numerous surgeries and osteoarthritis. Now, she spends many hours doing volunteer work and working with other advocates in the lung cancer community. 
Valerie is the mother of four adult children and now has eight grandkids who call her MomMom. Two of her grandchildren live nearby while the other six  live in Kentucky; she visits as often as she can. Valerie lives in South Jersey and loves spending time on the beach, watching sunsets over the Atlantic Ocean.
Blog category:
From the community
-> Diagnosed under 50
-> Survivorship
Survivor stories