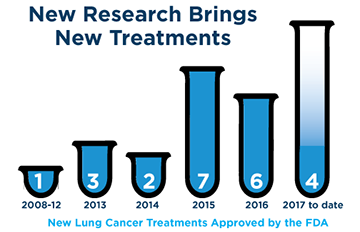 Tuesday, August 1, 2017 is World Lung Cancer Day.
LUNGevity joins the American College of Chest Physicians (CHEST), alongside members of the Forum of International Respiratory Societies (FIRS) and the lung cancer community, in this grassroots effort to raise awareness about lung cancer.
New research, diagnosis, and treatment breakthroughs in recent years have brought new hope to patients and their families.
LUNGevity offers many ways to help you make a difference today and every day. Learn the facts, sign up for an upcoming event in your community, volunteer, or donate to lifesaving research.
Together, let's raise awareness and provide hope to people living with with lung cancer.