Posted on November 28, 2018 - 11:52am
Just two weeks prior to delivering my first daughter, Lejla, I learned my maternal grandfather, Ehrem, was diagnosed with lung cancer. Due to the aggressiveness of the cancer, the doctors anticipated my grandpa would only live for another six to nine months. Unfortunately, our time was cut drastically, as my grandpa Ehrem passed away on Aug 14, 2013, just shy of two months after being diagnosed.
It has been five years, but it still seems like yesterday when we came to say "goodbye." I remember the dim lights, my grandpa looking at such peace but still reacting by raising his finger when I brought Lejla (just a month old at the time) next to him.  I was lucky my grandpa got to meet and hold his first great-granddaughter. I can still visualize the cuddles, the proud look on his face, and the tears that formed from being able to hold my daughter.
I chose to run the Chicago Marathon as part of Team LUNGevity to honor our memories. I remember that black digital watch he always loved to wear that created such a funny tan line.  I remember how he'd always sing or hum anywhere he'd go. I remember how he'd turn the steering wheel with just his pinky and swear in Bosnian if someone was driving crazy.  I remember the "secret" stash of sweets he always maintained for us grandkids.  I remember him always catering to my pregnancy cravings when we'd visit. I remember the love he had for absolutely everyone. I remember the strength he had till the very end.
I chose LUNGevity because, despite the illness my grandpa fought so hard against, he did not let it derail him from being there for his family. That energy he had is the energy I put forth in each day of my trainings.
At the start of my fundraising, I would post daily facts about lung cancer, which included explanations of the common misconception that "only smokers get lung cancer." By participating with Team LUNGevity, being active with my campaigning, and utilizing all sorts of social media platforms, I was able to have productive conversations with friends and family about the details of lung cancer.
The 2018 Chicago Marathon was my very first marathon. My main goal was to simply finish.  A month prior to the race, I was injured and barely ran three miles all of September – which meant instead of running my 20 miler, I went to physical therapy. Come race week, I truly didn't believe, the day that I had planned for 10 months, was going to be a reality.
When the doctor gave me the green light to try and take it easy and simply have fun that became my new goal: have fun. Around mile 16, my previous pain had an extreme flare-up, and I didn't think I would meet my one and only goal. The power of my family and their support and the constant reminder why I was there in the first place is what got me to that finish line. At mile 24.5, my brother and husband showed up by my sides and jogged with me. After 7 hours and 21 minutes, I finished and had FUN (and cried).
I chose LUNGevity because it is a way to connect and continue to remember the past.  My grandpa will forever be my inspiration and a great reminder of what we are truly capable of. There are so many memories that I will forever cherish but am so afraid they'll fade away over time. Running with Team LUNGevity helps to not let those memories fade away.
If you are interested in running with Team LUNGevity, you can find more information here.
Related Reading:
Becoming an Ironman with Team LUNGevity
---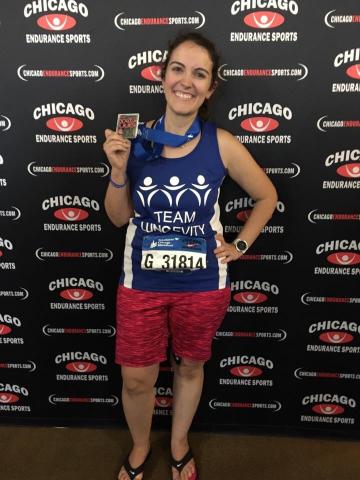 Meliha Pudilović lives in Bartlett, IL with her husband and three children. She participated in the 2018 Chicago Marathon, her first marathon, in honor of her grandfather