Posted on April 3, 2019 - 2:09pm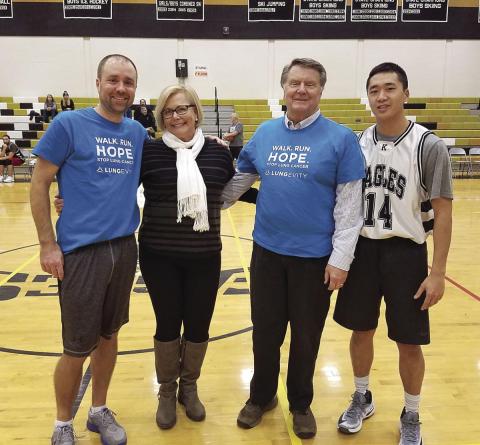 Are you interested in fundraising for lung cancer? Are you looking for the opportunity to do a creative fundraiser? Do you want to bring more lung cancer awareness and community to your area? A DIY event might be the perfect fit for you!
DIY, or Do-It-Yourself, events are organized by individuals or organizations to benefit LUNGevity. These events range from sports and fitness to music to dining and even a successful lemonade stand.
When you decide to host an event that is all your own, it can be a bit daunting, but it is actually easier than you may think!
Let your plan come into fruition
You may not know what kind of event to host, you may have too many ideas for events, or you may already have the perfect event in mind from the moment you clicked on this article. One of the many wonderful aspects about the DIY program is the ability to do any kind of event you like. If you're having trouble coming up with an idea, we have a list of ideas on our website to help guide you. Whatever your idea, it can be explored.  It may take a little elbow grease, but the reward is worth the work!
Tip: When trying to brainstorm ideas, think about the type of events you would like to attend with your family and friends.
Figuring out the finances
One of the most critical parts of an event is establishing a realistic budget and method of how to finance your event. Take an evening a work through the budget and consider every expense you can think of—from the venue expense to the napkins.
Tip: Make sure to include some wiggle room in your budget for contingency.
Once you have an estimate of how much you will need, it's time to look into sponsors that will donate either funds or in-kind gifts. In-kind gifts are donations of items or services that equal a cash value donation. For example, grocery stores like Trader Joe's or Giant will donate to your event if submit an application for support within the appropriate timeline. Other businesses or companies, whether local or national, are often willing to help too!
Tip: Reaching out to local businesses you frequent or looking through past events in your area to see which businesses sponsor events is great way to form a list of who to reach out to.
Spread the word
People can't attend your event unless they know about it. One of the easiest ways to invite people to your event is to reach out to those closest to you. It will create a snowball effect and your circle of attendees will continue to grow through word of mouth.
You can also reach out to your community to get the word outside your inner circle! You can print out flyers and give them to local businesses to display in their stores or place an ad in the local paper or magazine. You never know who might be interested in attending!
The best way to reach the most possible attendees is through social media. You can post the direct link to your DIY page to your various forms of social media or create an event page on Facebook for people to invite their friends and family. This is a great way to further your reach and touch people you never expected!
Tip: Have a friend handy with design create visuals to accompany your information when you make flyers or post on social media. This can be more eye-catching and visually stimulating to someone when scrolling through an endless newsfeed or walking past a bulletin board in a café.
Enjoy your event day
It's almost event day. Don't stress. The best way to make sure that you have nothing to worry about on event day is to confirm all of your vendors, volunteers and supplies. Once you have done all of that, you're all set! Enjoy the benefits of your hard work and have a great event day!
Tip: Only you will notice the little hiccups, so don't sweat the small stuff. Relax and enjoy the day!
Wrap up your event
Don't forget to thank your attendees, volunteers, and sponsors! Make sure they know that they made an impact by participating. This makes them want to return for your next event.
Tip: There's no need to spend money on your thank you. A simple email or handwritten card can go a long way for your attendees, volunteers, and sponsors to feel appreciated!
The proceeds from events like this help LUNGevity do great things for the lung cancer community, from supporting research to providing support and education programs to those affected by lung cancer. We try to make it as easy as possible for you to donate your proceeds to LUNGevity after your event.
Tip: You can use the DIY page as your donation platform, which can handle all of the money donated on event day. If you do receive cash, the best way is to donate it to us is to have a bank make a check to send to our Chicago office; unfortunately, we are not permitted to accept cash donations sent to our office.  
Think a DIY is right for you? Learn more and get involved by checking out our DIY website.
Related Reading:
Ways to Get Involved in 2019 for Advocates
Becoming an Ironman with Team LUNGevity
Blog category:
Awareness & advocacy
General