Posted on July 6, 2015 - 11:24am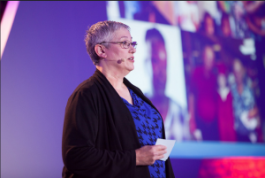 LUNGevity Foundation is proud to name Janet Freeman-Daily, stage IV lung cancer survivor, e-patient, speaker, and award-winning lung cancer blogger, the July LUNGevity Hero.  She is being recognized for her outstanding advocacy work and her role in creating and moderating Lung Cancer Social Media (#LCSM), a revolutionary social media community that helps patients become proactive participants in their diagnoses. Janet is a self-made success story.  Determined to be her own best advocate while fighting the disease, she scoured online resources and lung cancer forums, finding information about treatments and clinical trials that her doctors were unfamiliar with and which would ultimately lead to every lung cancer survivor's ideal: clean scans. She now helps others be active participants in their diagnoses by introducing them to survivors, connecting them with vital support groups, and informing them of lifesaving lung cancer resources and information.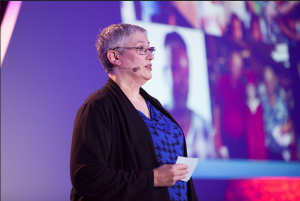 Janet's battle with lung cancer began in 2011 with a nagging cough that resisted several rounds of antibiotics. She was a non-smoker and had no family history of the disease, so the news of her diagnosis of advanced non-small cell lung cancer came as a shock. After chemotherapy, radiation, and two separate recurrences of the cancer, her chances of survival looked bleak. She then turned to the Internet to learn more. On online lung cancer forums, she researched her disease and treatments that were available. It was there that she learned of a new lung cancer mutation that her doctors were not yet familiar with called ROS1, which was being treated with new and innovative targeted therapy drugs. She was tested at the University of Colorado Cancer Center and, when proven ROS1-positive, she researched clinical trials and contacted trial sites until she found one accepting patients for the targeted therapy crizotinib. By January 2013, Janet's scans were clear. It was the first of many clean scans that inspired her to help others seek out the research and innovations that could change their lives, just as that access to information had changed hers.
With a deep understanding of how personal research can radically improve a patient's outlook and prognosis, Janet Freeman-Daily has become a technical translator, utilizing her training as an aerospace engineer to explain the experience and science of lung cancer treatment and research in easily accessible language for patients. She spends her days tracking research and treatments, supporting survivors in online forums, and raising awareness both through her blog, "Gray Connections," which was named one of Healthline's top 2014 lung cancer blogs, and through Lung Cancer Social Media (#LCSM), one of the most active health care social media platforms. As the co-founder and co-moderator, she leads patients, advocates, and health care professionals in discussions that develop public support, educate others about the disease, and seek to end the stigma of lung cancer. The combination of Janet's technical skills and her experience as a patient allows her to communicate with both researchers and patients and to serve as a catalyst for discussion between the two. After joining the second #LCSM chat, she was invited to join the founding team, where she continues to lead discussions every Thursday evening. She further advocates for patients by working closely with lung cancer organizations, providing the survivor perspective on boards and through speeches.
"LUNGevity Foundation is proud to name survivor and advocate Janet Freeman-Daily as the July LUNGevity Hero for her tenacious nature and her role inspiring, informing, and supporting the lung cancer community. By taking a proactive role in her lung cancer battle, relentlessly pursuing information about genomic testing and clinical trials, she was able to give herself the best chance at beating lung cancer," said Andrea Ferris, president and chairman of LUNGevity Foundation. "Now she uses her digital platform to give others their best chance at fighting the disease by tracking new innovations, translating the science into accessible information for patients, and spotlighting the disease and its survivors. Her journey serves as a reminder that the critical resources that we make available to patients and survivors can change peoples' lives."
In response to the recognition of July LUNGevity Hero, Janet shared, "I'm honored that my work has meaning to patients, patient advocates and caregivers, and to be a source of encouragement to others thinking about advocacy and telling their stories."