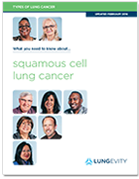 To help you understand and share this information, you can request our free booklet that summarizes the detailed information in the following sections. (This booklet was produced in February 2016, before the later approvals by the FDA of several additional drugs. Information about these recently approved drugs can be found in the Chemotherapy and Immunotherapy sections of Lung Cancer 101.)
Squamous cell lung cancer, also called squamous cell carcinoma of the lung, accounts for about 30% of all lung cancers. In addition to existing treatment approaches, new treatment approaches are being developed.
What is squamous cell lung cancer?
Diagnosing squamous cell lung cancer
Treatment options for squamous cell lung cancer
Finding a clinical trial that might be right for you
Managing symptoms and side effects
The healthcare team
Updated February 12, 2021
---
References