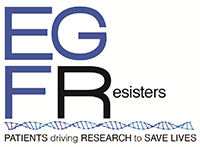 The 2021 EGFR Resisters/LUNGevity Award Program for EGFR-positive Lung Cancer is now closed for application submissions.
EGFR-positive lung cancer is a type of non-small cell lung cancer (NSCLC) in which the EGFR gene is mutated, promoting abnormal, unchecked cell growth. About 10%-15% of lung cancer patients have the EGFR mutation. While there are currently five FDA-approved targeted therapies to treat EGFR-positive lung cancer, the cancer inevitably recurs because the cells become resistant to the effects of the targeted therapies. Thus, there is a huge unmet need for additional treatment options for EGFR-positive lung cancer patients.
EGFR Resisters—a group of 2,000+ EGFR-positive patients and their caregivers in 70+ countries who are raising significant funds for research—and LUNGevity Foundation have partnered to support high-impact research that seeks to transform the future for patients affected by EGFR-positive non-small cell lung cancer.
A funded project is expected to have a direct impact on the outcomes of patients with EGFR-positive lung cancer, but innovative proposals that address other unmet needs in the EGFR-positive lung cancer space are also invited for submission.
This award is open to researchers at both US and international institutions. Note that, at the time of application, international applicants must name a co-investigator at a US institution. All research funds will be disbursed through a US institution.
2021 EGFR-Positive lung cancer Research Award
Up to $100,000 for each of two years, for a maximum fo $200,000
6-month milestones must be met
An EGFR-positive Lung Cancer Award offers up to $100,000 per year for two years, for a maximum of $200,000.
An applicant may submit no more than two applications for this award.
LUNGevity uses a two-step application process:
A letter of intent (LOI), with a brief overview of the proposed project and biographical information
A full application with an extended narrative about the project, as well as supporting information and documentation (only a subset of applicants is invited to submit a full application after the LOI review is completed)
Reviewers are drawn from the LUNGevity Scientific Advisory Board and other EGFR experts.
Awardees have progress and financial reporting obligations during the award term.
Complete instructions and award details are included in the EGFR-positive Lung Cancer Research Award Request for Applications.
LOIs and full applications must be submitted electronically via proposalCENTRAL.
2021 EGFR-Positive lung cancer research award timeline
| | |
| --- | --- |
| LOI(s) due: | by July 22, 2020 (11:59 pm ET) |
| Full application invitation: | no earlier than August 28, 2020 |
| Full application due (by invitation only): | by October 16, 2020 (11:59 pm ET) |
| Award announcement: | January 2021 |