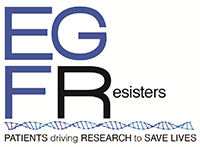 Background
Lung cancer patients harboring mutations in the EGFR gene represent a significant number of the patients diagnosed with non-small cell lung cancer (NSCLC). Approximately 10% to 15% of patients with NSCLC in the United States and 35% in Asia have an EGFR mutation. In the U.S., more than 20,000 people with EGFR-positive lung cancer are diagnosed each year. Although there has been an increase in progression-free survival in patients due to EGFR tyrosine kinase inhibitors (TKIs), patients eventually develop resistance to these drugs. With each generation of TKIs developed, more mechanisms of resistance are discovered; therefore, the development of drugs to target resistance mutations and other mechanisms of resistance is desperately needed.
What is Project PRIORITY?
The Patient Reported Initiative On Resistance, Incidence, Treatment studY is a patient-founded and patient-driven research partnership between the EGFR Resisters and LUNGevity Foundation. The study team is interested in understanding the treatment experience of EGFR-positive lung cancer patients. Specifically, the team would like to:
understand the demographics and needs of the EGFR-positive lung cancer community,
identify areas for improvement in diagnosis and treatment, and
give voice to patient concerns regarding risk factors, symptoms and side effects of treatments,
with the goal of empowering the EGFR Resisters community to have an impact on treatment development and future research.
If you are an EGFR-positive patient or the caregiver for one, please click on the link below to start taking the survey. We will first ask you a few questions to ensure that you qualify for the study.
If you have any questions or concerns about the survey, please contact the Principal Investigator, Upal Basu Roy, PhD, MPH, Senior Director of Research at LUNGevity Foundation, at ubasuroy@LUNGevity.org. You can also read the study FAQs to learn more about Project PRIORITY. We recommend that you read the FAQs before you take the survey.
The baseline survey for Project PRIORITY has now concluded. If you have consented to participate in the longitudinal survey, you will receive an email with a link to participate in the survey. Thank you for your support for Project PRIORITY.