Posted on February 16, 2021 - 8:49am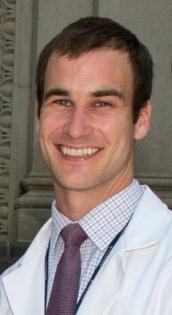 Immunotherapy, the treatment that harnesses the body's natural defenses to fight disease, has helped patients, excited imaginations, and stimulated new avenues of research in lung cancer. While approximately 40-50 percent of advanced-stage non-small cell lung cancer (NSCLC) patients are likely to benefit from immunotherapy, some patients may be at increased risk for side effects from immunotherapy or may have better outcomes through other treatment options.  
Jeffrey Thompson, MD, MS, assistant professor of Medicine at the Hospital of the University of Pennsylvania, is working to improve our fundamental understanding of lung cancer and to develop tests that will help physicians identify which patients are most likely to benefit from immunotherapy and which are likely to have better outcomes with other treatments.
Dr. Thompson knows that tests on tissue samples come with trade-offs. "I am a pulmonologist who sees patients. Often, I am the one to take the tissue samples during a patient's biopsy and make the initial diagnosis," says Dr. Thompson. "One of the common challenges is that there is just not enough tissue to do all the testing that we would like to do. One way to overcome this is to develop less invasive ways, such as blood tests, to help guide treatment."
Dr. Thompson hypothesized that exosomes (small sacs containing RNA and proteins that are released from tumor cells) in a patient's blood could be useful biomarkers when predicting response to immunotherapy.
He applied for, and was awarded, a 2018 Career Development Award from LUNGevity to pursue this important work and to lay the foundation for a career as a physician-scientist focused on lung cancer research.
Using a newly developed technique for studying protein expression on exosomes, Dr. Thompson's project is working with late-stage NSCLC patients who will be receiving immunotherapy. These patients will provide additional blood samples for analysis and then be monitored over time so that the changes in their blood exosomes can be correlated with their response to immunotherapy.
Despite the challenges of the COVID-19 pandemic, Dr. Thompson's work is already providing important answers and raising intriguing new questions. Though his initial protein expression studies are ongoing, this research has also laid the groundwork for Dr. Thompson to study the RNA in NSCLC tumor exosomes as another potential avenue for developing a blood test.
As he expands the scope of his work, Dr. Thompson aims to discover new information about the underlying mechanisms of NSCLC and to identify key biomarkers within the tumor exosomes that could help guide treatment approaches for patients.
"This work would not have been possible without LUNGevity's support," explains Dr. Thompson. "The award is key to protecting my time and allowing me to spend time working on research—talking to patients, conducting experiments, and analyzing results."
"I am also very grateful to the patients who have supported my research. They have been very willing to provide samples and help promote research progress," he adds. "Our lung cancer community is strong. That strengthens our research efforts and makes our hope for the future even brighter."
Learn more about immunotherapy in our comphrensive, medically vetted overview.
Related Reading:
---

Juhi Kunde, MA, is a science writer for LUNGevity.
Blog category:
From the experts
-> Biomarker testing
-> Research
-> Treatment