Posted on November 5, 2019 - 1:19pm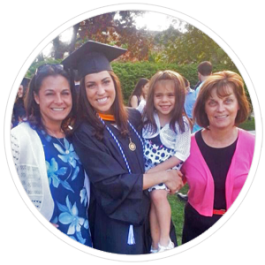 I have been involved with LUNGevity Foundation since 2017 after my mom, Maureen Grippo, was diagnosed with lung cancer in 2016. The first event I participated in through LUNGevity was their Breathe Deep walk in NYC on October 27, 2018.  Being involved in the walk, even though my mom was not able to be there, gave me the opportunity to make her proud one last time. My mom lost her battle to cancer in November 2018, and I will continue to be involved in LUNGevity in her memory to spread awareness, hope, and education.
How did you first get involved with LUNGevity as a volunteer?
I first became involved in this amazing organization as a social media ambassador.  When my mom was diagnosed, I knew I needed to do more to bring lung cancer to the forefront and get people talking. I also enjoy talking and helping people in similar situations as I was in. Being a young person and having a parent with cancer is scary and challenging and it's comforting to know they have someone to go to. I was also able to connect with other young caregivers through LUNGevity to help them navigate being a caregiver and give them an outlet to talk openly without judgement.
Why did you choose to be part of this particular organization?
I wanted to choose an organization to become involved with whose sole focus was lung cancer. I chose LUNGevity because it is the nation's leading lung cancer-focused nonprofit.  LUNGevity offers so many ways to get involved, which I loved. While being the primary caregiver for my mom, the organization allowed me to support her and spread awareness, even in a small way. I love that not only do they fund research, but they also offer resources and support to caregivers and patients. As a nurse and former caregiver, I know how hard it can be to process and understand all the information there is when taking care of a loved one. LUNGevity gives patients and caregivers a platform to navigate that information. 
What impact do you hope your volunteer efforts will make?
My hope is to start a conversation. Lung cancer is underfunded and comes with the stigma that everyone who had or has lung cancer was a smoker. I want to erase that stigma. I want to make everyone aware that anyone with lungs can get lung cancer.  I want people to know the risks and know the signs. The only way to do that is to get people talking, spread awareness, educate, and increase funding. LUNGevity gives me and everyone the opportunity to do that.
What gives you hope?
My mom and everyone still fighting. They are the ones who drive me to spread awareness. Being part of the Breathe Deep NYC walk last year was an overwhelming feeling that is hard to describe. Everyone who was there wanted to be there and had a reason to be there, and one of the main reasons we were all there was with the hope for a world without lung cancer. The energy that day was powerful, and it felt like we all had a purpose and were making a difference. That day above all gave me hope. Sometimes I feel like I could be doing more, which in reality I guess we could all do more, but at the walk all my efforts to raise money came to life.  I will walk again with my team #GetAGrip this year to give me more hope for a future without lung cancer.
Related Reading:
Get involved this Lung Cancer Awareness Month
Become a social media volunteer
---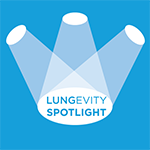 LUNGevity Spotlight is a way to highlight people living with lung cancer, caregivers, volunteers, and fundraisers who are making a positive impact in the LUNGevity community. We hope that their stories will inspire and encourage many more to get involved.
If you know someone in the LUNGevity community whom you'd like us to Spotlight, please nominate them here.
Blog category:
Spotlight
-> Advocate spotlight