Posted on June 16, 2020 - 9:54am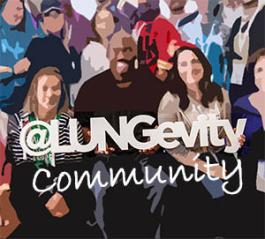 Your first appointment with your oncologist after being diagnosed with lung cancer can be scary and intimidating. You want to make sure you are as prepared as possible to make the most of this first interaction.
Patients and survivors in our community offered their tips for how to best prepare for the first appointment.
1. Do some research before you go.
It can be helpful to understand the basics of lung cancer before your appointment. Check out LUNGevity's medically vetted Lung Cancer 101, which walks you through lung cancer, from before someone is diagnosed to treatment.  Having this baseline knowledge can help you ask better, more informed questions.
2. Write down any questions or concerns you have before the appointment.
If you have specific questions you would like answer or concerns you like addressed, it's best to write them down before the appointment. The first appointment can pass by in a blur, and you don't want to leave without having your questions and concerns addressed.
Unsure what to ask? LUNGevity has a great list of question for newly diagnosed patients, which you can access here.
3. Take notes
It's easy to get overwhelmed with all the information you receive during this first appointment. Be sure to bring a pen and paper and write down as much as possible. Some of our community even recommended recording the appointment, if possible. You will be grateful to have these notes to refer to in the future.
4. Bring someone along
It's nice to have a second set of ears in addition to having someone there to support you through a stressful time, even if that person can only join by phone. You might leave your first appointment in a daze, and it can be a comfort to have someone to compare notes with and support you after the appointment. It also helps them to have the opportunity to ask any questions they have as well; they might think of something you don't immediately think to ask.
5. Don't be afraid to ask questions.
If you don't understand something, be sure to ask for a clarification or explanation; if you don't understand the terminology, you can absolutely ask the doctor to speak in layman's terms. This appointment is for you, and the doctor should be happily willing to take extra time to make you feel more comfortable by answering any questions you might have.
6. Don't be afraid to see a second doctor.
You always have the option to see another doctor. Whether you want to confirm their suggested treatment plan is your best option, or you simply did not like your first doctor, you shouldn't be afraid to seek out another opinion or oncologist. This doctor will likely be in your life for a long time, and it's essential you trust and feel confidence in them and their decisions.
While you might not want to see another doctor right now, you might eventually decide it's time for a second opinion. Having copies of your reports and records (such as results of CT scans, MRIs, biopsies, etc) is essential to making this process seamless and smooth. It can be hard to get copies of these records if they are a few years old, so gathering this information from the get-go is crucial. Continue to gather this information as you continue on your care journey so you are the keeper of your most up-to-date records.
A lung cancer diagnosis can be overwhelming, and it can be hard to know where to start. LUNGevity has great resources to get you started! Lung Cancer 101 has all the information you need. You can also call the Lung Cancer HELPLine to talk to a social worker, who can help you manage emotional, financial, and support challenges.
LUNGevity also offers many programs for those looking for support! Looking to talk to someone who knows first-hand what you're going through? Join us on our online message board Lung Cancer Support Community or our private Facebook groups to talk to other lung cancer patients/survivors and caregivers, or get matched with a buddy in our peer-to-peer mentoring program LUNGevity's LifeLine.
For more resources and information, check out the Survivor Resource Center or the Support Services page.
Related Reading:
---
Blog category:
From the community
-> Survivorship