Posted on December 22, 2020 - 11:14am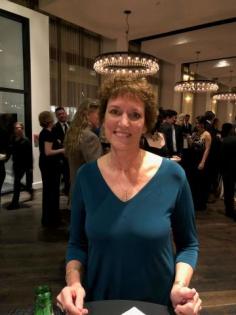 Marty Henley is a nurse anesthetist and serves as Chief nurse Anesthetist at CAMC, managing the department of anesthesia at the medical center. In 2011, she was awarded the WV Nurse Excellence Award for Advanced Practice. Marty is very active in medical missions, serving in Haiti as an anesthetist for the last 15 years. Marty is married and has 3 children.
 
Can you describe the most difficult thing you experienced when you were diagnosed with lung cancer?
The most difficult thing was hearing that it was inoperable Stage 4 with metastasis. It seemed so very hopeless with that news. Plus, with no symptoms, it was as shock that the disease was so advanced.
 
What was the biggest unexpected change in your life after your diagnosis?
I quit work. I was giving anesthesia for a living. With COVID-19 being a big threat, it was too dangerous to continue working. I also had no idea what to expect as far as treatment plans, so everything was up in the air. I worked 50-60 hours per week, so it was a radical change in my life.
 
Since your diagnosis, what support/resources have been most useful to you?
I found LUNGevity Foundation to be very helpful. They have a conference called International Lung Cancer Survivorship Conference that was free that helped me better understand my diagnosis and possible treatments. Also, the EGFR Resistors Facebook page has been very helpful, knowing that you are not in this alone!
 
What is something that people close to you said or did that made a difference?
Those close to me just listened and supported me emotionally. They said, "We are in this together!" They let me know that I was not facing this alone and they would be by my side.
 
What does the term "survivor" mean to you?
Survivor means remaining alive after an event where others have died. It can also mean you cope well with the difficulties with life. I am a survivor because this cancer has not beaten me nor has it defined me!
 
What does the term "survivorship" mean to you?
Survivorship denotes ownership. It starts at diagnosis and progresses through treatment. It implies that you know have a responsibility to fight, understand, seek knowledge and to give back to the group as a whole. I feel I owe something to the group at large.
 
If you could give any advice or words of wisdom to a newly diagnosed patient, what would it be?
DO NOT look at the internet! Seek opinions that answer your questions, and be sure to get a second or third opinion! It is your life and you need to take charge now more than ever. I also committed to prayer and my faith to lead me through my dark times.
 
What gives you hope?
Research gives me hope for a better future. The strides they are making is quite amazing. I am EGFR positive. In taking my targeted therapy, I am able to resume a normal life and feel good. Living normally gives me hope. My faith also gives me great hope that I will never be alone.
---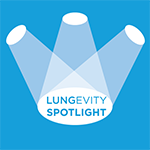 LUNGevity Spotlight is a way to highlight people living with lung cancer, caregivers, volunteers, and fundraisers who are making a positive impact in the LUNGevity community. We hope that their stories will inspire and encourage many more to get involved.
If you know someone in the LUNGevity community whom you'd like us to Spotlight, please nominate them here.
Blog category:
Spotlight
-> Survivor spotlight