Posted on July 21, 2020 - 9:44am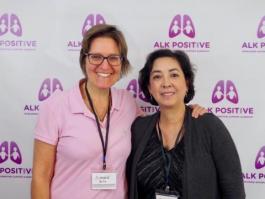 A lung cancer diagnosis can be overwhelming. Support from family and friends becomes a crucial part of navigating the disease. Equally as important to many is support and understanding from someone who has already walked the lung cancer path.
Finding someone who understands what you're going through isn't always easy, however. That's why LUNGevity created the LifeLine Support Partners program.
The LifeLine Program matches lung cancer patients or caregivers with LifeLine Support Partners. The Support Partners volunteer to mentor and offer encouragement, advice, experience, and hope to those newly diagnosed and anyone needing additional support through a one-on-one personal connection by email or telephone. Partners are matched based on factors including gender and type of lung cancer.
Lia (mentor) and Michelle (mentee), who were paired as Lifeline Partners two years ago, share their experience. 
Why did you decide to get involved with the LifeLine Program?
Lia: I remember feeling very isolated when I was initially diagnosed. Those first few months were so difficult. I was completely blindsided by the diagnosis and spent several weeks in a fog. I didn't know about the LifeLine program until months later, but had I known about it I probably would've asked for support.
Once I was back on a targeted therapy after finishing chemo and radiation, I was slowly able to return to a relatively normal life. It was then that I decided to become a mentor. I thought that I could help others go through the ups and downs of living with cancer. I didn't have to imagine what someone else was experiencing; I knew exactly what they were going through because I'd been there myself.
Michelle: I had been through a pretty traumatic summer to get to my diagnosis. I had many doctors' appointments and rule out diagnoses, and I was getting increasingly sick before they finally found the lung cancer. After I was finally diagnosed, the entire medical team was shocked. I was 51 years-old and I was an elite athlete in the best shape of my life.
It's really discomforting when you show up for your first chemo appointment, and the nurse tells you she's never prescribed the drug and can't give you any advice, particularly after the difficulties I faced to just get diagnosed. I just knew that there had to be someone out there that knew what I was going through and could talk to me. That's when I found LifeLine and decided to give it a try.
 
Why is LifeLine an important resource for lung cancer patients/survivors?
Lia: Even though we may have family and friends to turn to for support, it's nice to talk to someone who is going through something similar. The LifeLine program does a great job matching partners. Michelle and I are around the same age and both have ALK+ LC. We are on the same treatment and we talk about the side effects of our medication. We support each other around scan time.
We also talk about some of the physical and emotional challenges we're facing and how our lives have changed since diagnosis. There are other resources to turn to for help, like support groups and online communities, but there is nothing like a one-on-one connection.
Michelle: It's like a lifeline when you're just reeling—you don't know what to expect, your doctors don't know what to expect, no one really knows the course of the disease. Lia, who was about 9 months ahead of me and had faced similar experiences to me, could actually tell me what to expect. I had headaches that wouldn't go away for weeks. Lia said, "oh yeah, I had a brain MRI, here's what to expect." I had back pain, and Lia said, "oh yeah, I had that too, this is what to expect."
It's like having a wingman who not only helps you in the beginning, but also adjust to living with the disease. You need that added support before next round of labs or next scan. You need to expect the unexpected and have the safety net. LifeLine gives you that.
 
What would you tell someone who is thinking about getting involved?
Lia: It's a great program, so I encourage you to reach out and connect to someone through LifeLine. It's hard to navigate this alone. Being a mentor is a small way to give back and use my experience to help make someone else's a little bit easier.
Michelle:  Give it a shot.  One of the most surprising things about being diagnosed with lung cancer is the stigma.   I had a few friends distance themselves when I told them about my diagnosis.  I didn't think that could happen to me, but it did.  The saying "it takes a village" to fight lung cancer is very true in many ways.  It's hard for people to really understand what you're going through, particularly due to the treatment advances.  I don't look or act sick, yet I'm dealing with the side effects of maintenance therapy.  Having someone who is experiencing the same issues is validating. 
Do you think LifeLine Support Program might be right for you? Learn more and sign-up on our website.
Related Reading:
Blog category:
From the community
-> Survivorship
Living well with lung cancer
-> Healthy living