Posted on August 4, 2020 - 10:06am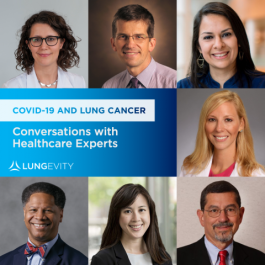 LUNGevity's Chief Health Equity and Diversity Officer Jeanne Regnante sat down with Amy Jo Pixley, an oncology nurse navigator at Ann B. Barshinger Cancer Institute of Penn Medicine Lancaster General Health, located in Lancaster PA, to discuss COVID-19 and lung cancer tips. This conversation took place in May 2020.
Jeanne Regnante: What are some questions you're hearing that are on the minds of lung cancer patients, based on their need for cancer care during the pandemic?
Amy Jo Pixley: That's a good question. What comes to mind first is, what do I tell my family about my risks?  I recommend that you tell your family that you are part of the vulnerable population that we hear and read about with an increased risk of contracting the virus. I encourage a patient to say, "To minimize my risk, we're going to practice good handwashing, need to make sure that the common surfaces that we all use are kept clean, and minimize our social contact and use social distancing. And hopefully with the help of my healthcare team, we will continually evaluate my risk in getting the virus until it outweighs the benefit of continuing treatment." When you put it out there that yes, you're vulnerable, but there are things one can do, it gives you control back.
Another question I hear is: What will happen if I don't respond to my current treatment, and I need a new treatment during this time?  I remind patients that every time we start them on a treatment path and they undergo restaging scans, we always come to a crossroad. There is always hope that the path continues forward, but there's often going to be a hiccup. And even now, during the pandemic, if we need to make alterations, we have to have a true, informed conversation as to what is the risk and the benefit of the treatment. Unfortunately, now we also have to add in, what is the risk that the virus imposes? So sometimes, when we start a new treatment, if it's normally given every three weeks, we give it every four weeks until we figure out what's going to happen.
How will I know if the COVID symptoms are different from my lung cancer symptoms? Many patients who have lung cancer experience shortness of breath or a cough. They're the two things that we're always asking:  have you been experiencing any new shortness of breath or cough?  It becomes a judgment call. I tell patients, you know you, and what causes your increased shortness of breath and what causes you to cough, you know it better than anyone. So, trust yourself. If you're able to carry a load of laundry, for instance, up a flight of stairs without any problem and then the next day you're running up the steps and you have to stop before you get to the top, ask yourself what's changed.
Is it because the humidity's bad now that it's summer? But if you don't have any reason for the changes in your symptoms, don't try to figure it out alone; make sure you call your healthcare team and let them guide you through all of that.
Many families are concerned because they've been told now that they have to protect their loved ones by social distancing, but how can they actually help them from a distance? When I talked to families about how can they help from a distance, a lot of it comes down to making sure you just stay connected, whether it's through Zoom or Google Meets or any of the latest technology platforms that you can do for face-to-face interactions. That's going to be key. One, it gives you as a caregiver the opportunity to see physically how somebody is doing, which you can't do by a telephone or through text messaging. Those are still great ways to connect, as they provide distractions and entertainment. Make sure that you help them limit their exposure to the outside world without making them panicky.
But if they're getting chemotherapy, encourage them to stay put, give you their grocery shopping list, allow you to go and get groceries to drop them off on their front porch or set them up with a delivery service that can do the same thing. Another big way to be physically distanced but present at the same time is to make sure you 'attend' their appointments with their medical oncologist, or their surgeon or the radiation oncologist. Whether it's by way of chatbox or even if they conference you in, and you're on speaker, be present in the moment, able to ask the questions you need to, but also to be able to hear what's on their minds as well.
JR: Can you share a myth and an associated fact that comes to mind about COVID-19 that you're aware of that needs to be urgently clarified for the community that you serve, Amy Jo?
AJP: Oh, it's probably not really a myth, but as I was thinking about this, the thing that I hear is "I need to do whatever I can not to go see a doctor." I fully support avoiding the healthcare system as much as you physically have to, but you can't do it in such a manner that it becomes self-harming. Meaning that if you need medical attention, you need to get it. And the healthcare systems have all been set up now where patient safety and protection is at the forefront. So you call your medical oncologist or you call your family doctor to assess what's going on and let them help guide you through that decision making on seeking medical care. Again, there's so much information out there that is constantly bombarding us and it makes it really challenging to make any sort of calm or clear rational thinking.
So it's a mistake for us to become too complacent as we adjust to reopening, but at the same time, we need to make sure that you're not sacrificing your health to avoid the possibility of getting the virus.
Thank you to Amy Jo for her great advice and expertise shared. We appreciate all  the great work that she and her healthcare team does in Lancaster, Pennsylvania. 
Related Reading: