Posted on November 14, 2019 - 10:54am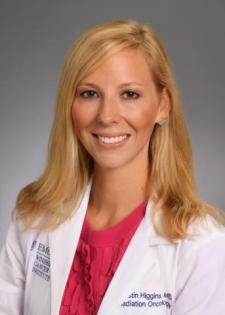 Kristin Higgins, MD  is an Associate Professor within the Emory School of Medicine and serves as the Medical Director of Radiation Oncolo-gy at the main campus location.  She specializes in the treatment of lung and head and neck cancers.  She leads numerous Winship Clinical Trials that examine innovative treatment approaches in the treatment of lung cancer.  Kristin completed residency in Radiation Oncology at Duke University, as well as an internship in internal medicine and attended medical school at Tulane University in New Orleans, LA.
In a few sentences, can you explain the role of a radiation oncologist?
The radiation oncologist is one of the core members of the lung cancer multi-disciplinary team. Radiation oncologists weigh in along with medical oncologists and surgeons on the best treatment plan for lung cancer at the time of initial diagnosis as well as at the time of disease progression.  Radiation has many indications in lung cancer, for all stages of disease, and in many instances can help patients live longer from their cancer. 
Our job is to determine which lung cancer patients will benefit from radiation, and to design and deliver the radiation treatment safely to our patients.  We also actively design clinical trials in lung cancer to look at ways where radiation can be used, many times in combinations with immunotherapy and targeted therapies.
 
Is your role patient-facing? [how much/often do you interact with patients]
Yes! We see patients at the time of diagnosis, during radiation treatment, and in follow-up.  Lung cancer is a team sport, and I work closely with my medical oncologists, surgeons, and interventional pulmonologists in the treatment of our patients.  During my typical work week, about 50% of my time is spent seeing patients in the clinic.  We also spend time developing the radiation plans, which is a bit more technical and not patient-facing, but a necessary part of the job.
Why is it important for someone affected by lung cancer to have a radiation oncologist on their medical team?
The more physician advocates you have on your behalf, the better!  If you have a collaborative physician team that works closely together, you will get more comprehensive treatment.  Many times, we see lung cancer cases from different perspectives, and with anything in life, the more perspectives you have, the better the outcome.
What are the top 3 challenges you face as a radiation oncologist in working in lung cancer?
I think our treatment of brain metastases can still be very challenging, especially when brain metastases progress to involve the lining and fluid around the brain.  This situation has a very poor prognosis and we need better tools to help control this type of progression in the brain.
Another challenge is the treatment of small cell lung cancer. We haven't seen as many advances for this patient group which composes 13% of all lung cancers and tends to be very aggressive.  But we have finally made some progress in small cell so I am very excited about that.
One final challenge is that the overall funding dollars for lung cancer are low relative to the overall lung cancer burden.  We need more research funding to making meaningful advances for our patients.
What's the most common misconception patients have about radiation oncologists/what radiation oncologists do?
Often times, I find that patients think that radiation oncologists are radiologists and not interacting with patients in meaningful ways.  I hope to dispel that idea! 
What are some tips you have for patients and caregivers to help them work better with their radiation oncologist or healthcare provider in general?
Advocate for yourself! No one knows how you are experiencing your disease and symptoms better than you. 
What is a question you wish more patients would ask?
I often times wish that there was more enthusiasm for clinical trials and patients would ask more about specific clinical trial opportunities.
What type of patient education and support resources have you found most useful? What type of education and resources do you recommend to patients and caregivers?
That's a timely question.  Myself and other lung cancer radiation oncology experts are working on developing new radiation oncology content for LUNGevity Foundation!  Right now, I would point patients towards the National Cancer Institute's education resources for radiation and lung cancer. Also the Association for Therapeutic Radiation Oncology (ASTRO) has great patient online resources as well.
 
In your own opinion, what is a patient's "secret weapon"?
Clinical trials directed towards your specific tumor characteristics.  Novel treatments are accessed through clinical trials and that's where patients can have real opportunities.
What motivated you to become a radiation oncologist?
I wanted to go into a field where I could be impactful to patients every day.  Treating lung cancer is challenging and rewarding.  Patients need lung cancer specialists and we need our patients. We learn so much from each other and it being able to help patients through a stressful and difficult time can be extremely rewarding.
What do you find most rewarding about your job?
Curing cancer and reducing symptom burden.  We cure many stage I-III patients with lung cancer, which is what I love most. I also love when we can take our stage IV patients and manage their lung cancer like a chronic disease, using radiation when certain lesions become resistant to systemic therapy.  I have a patient who has lived with stage IV lung cancer for over 20 years. That is real progress.
What role do you think advocacy plays or can play in your field?
I think patient advocacy is one of the most exciting changes that I've seen over the last few years.  Seeing patients come together and demand more funding dollars and new treatments will push the field forward faster.  In radiation oncology specifically, advocacy for access to high quality radiation therapy is important because state of the art technology can make the difference between the type and severity of side effects that patients experience.
What is one piece of advice you would give to someone newly diagnosed with lung cancer?
Well, to start, make sure that you are getting everything done to ensure that correct stage of your cancer, including a PET/CT, biopsies, and many times a brain MRI.  Also, ensure that your tumor undergoes molecular testing. This is standard of care for stage IV disease, but many centers including my own (Emory) will perform molecular testing on all non-small cell lung cancer tumors regardless of stage.  Many times, there is an urgency to get treatment started, but I would really drive home that you have to get the diagnosis and stage correct, so take the extra time to make sure this is done correctly. And, get a second opinion!  It's always better to have more doctors thinking about your specific case. 
What gives you hope for people living with lung cancer?
Our patients are living longer and with a better quality of life.  We've made tremendous progress over the last decade. With lung cancer screening, we are also diagnosing patients at earlier stages of disease. I hope that in the coming years, stage IV will be the minority of patients at initial diagnosis, rather than the majority.  I think we can get there.
---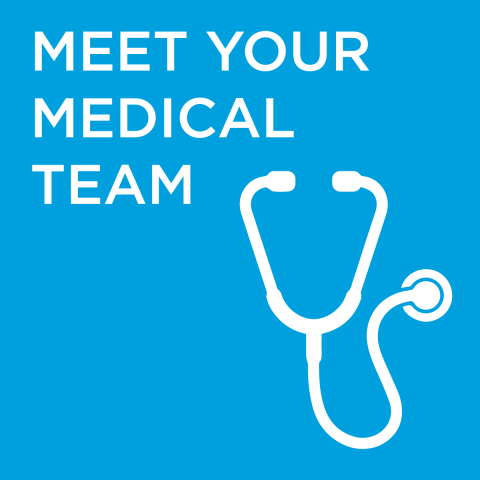 Meet Your Medical Team blog series gives lung cancer patients insight into the role and importance of each medical specialist that they encounter through their diagnosis and treatment. These interviews are intended to help patients communicate better with their healthcare providers and become better advocates in their own care.
Learn more about the different types of medical experts that make up your medical team in the Lung Cancer 101 section of LUNGevity's website.
Blog category:
From the experts
-> Your medical team