Posted on November 1, 2019 - 1:30pm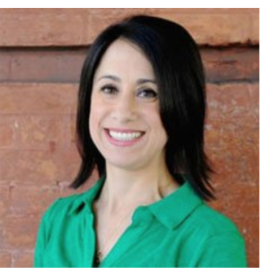 Why is nutrition important to cancer patients?
Nutrition is important for lung cancer patients because it can help patients stay strong before, during, and after cancer treatment.  Research has shown that proper nutrition can help prevent complications from treatment and treatment breaks, reduce treatment-related side effects, and improve outcomes.
What is Ina®?
Ina® offers personalized, evidence-based nutrition support to help patients eat healthy and stay well-nourished throughout cancer treatment and beyond.
Some key features include personalized nutrition guidance 24/7 at your fingertips, "on demand." Whenever you'd like answers to questions about your nutrition needs or symptom management, text Ina® from your cell phone and she'll respond with personalized nutrition tips, recipes and answers to your questions—no phone calls or appointments necessary.
Best of all, Ina® is safe, secure, and free. Unlimited access 24/7 in a HIPAA-compliant solution that is secure and ensures data privacy.
How does Ina® work?
Ina® was developed on a HIPAA-compliant expert platform by a team of oncology-credentialed medical professionals working closely with a team of data scientists.  All of Ina®'s knowledge and advice are based on scientific evidence and the training of oncology credentialed registered dietitians, nurses, and doctors who are experts in the needs of cancer patients.
Ina® offers patients and caregivers personalized information based on the patient's unique nutritional issues, needs, and preferences, which are self-reported via texting with Ina®.
What sort of questions can Ina® answer?
Ina® can answer your questions related to nutrition issues and nutrition addressable side effects and symptoms, which are fatigue, nausea, vomiting, diarrhea, constipation, and decreased appetite, weight gain or loss. You can ask questions like: "What can I do if I am having trouble eating?" "What should I drink if I have nausea?" "I am tired, can I have an easy recipe?"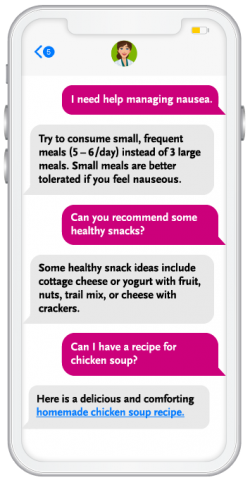 Ina® can also provide recipes to help you with your symptoms. Ina®'s recipes have been curated and designed to meet your needs! For example, Ina® can help you with a recipe for mouth sores, or a high-calorie recipe to help you prevent weight loss.
What are tips you have for patients to manage their nutrition during treatment?
Focus on including good sources of protein so that your body can heal and recover properly.  Good sources include fish, chicken, turkey, lean beef, pork, eggs, yogurt, cheese, nuts, and beans.  It is also helpful to include colorful plant foods - fruits, vegetables, whole grains, nuts, and seeds - which provide a wealth of beneficial vitamins, minerals, antioxidants and phytonutrients that not only keep your immune system strong but also have a wealth of cancer-fighting properties.
How much does Ina® cost to use?
Ina® is free for patients and caregivers!
How can people access Ina®?
Patient and caregivers can access Ina® by clicking here.
What's your favorite part about Ina®?
My favorite part about Ina® is that she is available at your fingertips.  Patients and caregivers no longer have to wait to get trusted, evidence-based nutritional guidance that can help them stay strong and healthy throughout cancer treatment and beyond.
Your nutrition is important. See how Ina® can help and sign up here.
---
Jessica is a registered dietitian and certified specialist in oncology nutrition (CSO). She studied nutrition at Cornell University and completed her dietetic internship at New York Presbyterian Weill Cornell Medical Center. She obtained her Master's degree through the University of Medicine and Dentistry of New Jersey. Jessica has worked in inpatient and outpatient oncology settings since 2001 in the North Shore-LIJ Health System.
Blog category:
From the community
-> Survivorship
Living well with lung cancer
-> Nutrition