Posted on May 12, 2020 - 8:23am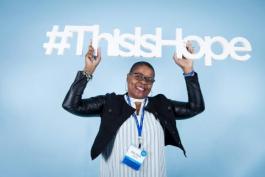 May is Lung Cancer Hope Month, a celebration of the progress for people living with lung cancer—new treatment options, more clinical trials, and people living longer and better with their disease. The COVID-19 pandemic has changed a lot, but it will not stop our momentum. Our community remains resilient, our determination to continue the incredible progress is sound, and our hope for better outcomes for lung cancer patients is stronger than ever.
There are still plenty of ways to get involved still this month while staying safe at home. Check out a few suggestions below!
1. Participate in a virtual event
LUNGevity will be hosting a series of virtual events over the next few months to spread awareness and raise funds for lung cancer. Join us for our first event, Breathe Deep TOGETHER, on May 30! This virtual walk/run aims to bring the lung cancer community together for a morning of celebration, hope, and remembrance for all affected by lung cancer.  The event has many exciting new features, so be sure to check out the event website to learn more and register—it's free! 
Do you want to take it a step further? Start your own virtual event! People across the globe are finding creative ways to find community and fundraise for causes important to them. Whether it's hosting a virtual bingo night, movie night, or bikeathon, you can bring your idea to life and support the continued progress of lung cancer.
Get started on our DIY events page.
2. Find your community on LCSC
Get connected in our virtual communities! Lung Cancer Support Community, LUNGevity's online message board, has more than 13,000 users and more than 44,500 posts. Our staff and volunteer moderators are online and ready to connect with you across multiple forums, topics, and posts.
There are forums and threads for every topic you might want to discuss, such as COVID-specific forums, with updates on the virus, and the Tell Me Something Good forum, filled with good news to be shared and highlighted. There is even an entire forum for HOPE! If you don't see a topic you want to talk about, it's easy to start a new forum!
Learn more here.
3. Meet other patients and survivors virtually!
Prefer a face-to-face connection? Join our Virtual Meet-ups! Every Friday, LUNGevity is hosting virtual Zoom meetings with patients and survivors who want to meet and connect with others just like them. Join us for virtual support, information, and friendship with your peers impacted by lung cancer!
Learn more and sign-up on our website.
4. Spread the word on social media
What better way to celebrate lung cancer and continue to spread awareness than sharing with your social media network. Get your friends and family involved in our mission to stop lung cancer! Share lung cancer facts and advancements, encourage others to get involved, and spread the hope of a better tomorrow. Don't forget to tag LUNGevity!
Want to take your lung cancer influencer status to the next level? Become a Social Media Ambassador! Learn more about the program on our website.
5. Share your story!
Whether you are a patient, survivor, caregiver, scientist, healthcare provider, volunteer, or any of the other important roles in our community, you have a story to tell. Submit your story, blog idea, or lung cancer-specific article on the many issues people affected by lung cancer face. Your story might just end on the LUNGevity website. Find out more on our website.
Think someone you know has a good story to tell? Nominate them to share their story with LUNGevity Spotlight. LUNGevity Spotlight is a way to highlight people living with lung cancer, caregivers, volunteers, and fundraisers who are making a positive impact in the LUNGevity community. We hope that their stories will inspire and encourage many more to get involved.
If you know someone in the LUNGevity community whom you'd like us to Spotlight, nominate them here.
LUNGevity has lots of opportunities to get involved—find one that works for you. We hope you'll join us in this celebration of hope.
Related Reading:
---
Blog category:
From the community
-> Get involved