Posted on March 3, 2020 - 2:15pm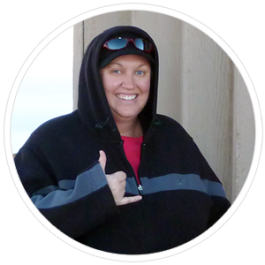 Steffanie is a lifelong Washingtonian (the State) who lives outside a small, rural town.  She is married with 2 furry, 4 legged kids.  While not attending concerts with her mom, telling fishing stories with her dad, or working with her husband around their property, you will find her earning money for her next adventure as a manager of local homeless programs.  Her volunteer position as a moderator for LUNGevity's Support Community forums started when her mom was diagnosed with a lung cancer recurrence in 2017.  Since then, she has become an advocate and "cheerleader" for patients and caregivers alike.
What are some of the challenges for you as a caregiver?
I would say that my biggest challenge as a caregiver, something that I think most of us struggle with, is juggling our caregiving role with our own life.  There were many days that I did not have the energy to deal with my own life because I felt that it was most important to give all I had to my mom.  If I wasn't with my mom at every appointment or hospital stay, my guilt would eat at me.
If you could give any advice or words of wisdom to a new caregiver, what would it be?
I am definitely not the posterchild for being a great caregiver or having wisdom, so I will leave you with this: I have a note taped to my computer monitor at work and it says "Yesterday is gone, tomorrow has not yet come, so all we have is today. Let us begin." This message reminds me to focus on today – all of the little moments that I am thankful for.
Can you describe your role as a LUNGevity volunteer?
Besides the logistical part of being a volunteer moderator for LUNGevity's online support forums, I pay special attention to those who are caregivers and those who are going through similar treatments as my mom.  With having lost my grandma, uncle, and a close family friend to lung cancer, I understand the loss and defeat that comes with a lung cancer diagnosis and can empathize with other's feelings of defeat.
What impact do you hope your volunteer efforts will make?
My biggest goal in being a LUNGevity volunteer is to provide HOPE and support.  I do this through sharing my mom's story of HOPE and LIFE, as well as being a shoulder to cry on.  Through this support, it is my hope that survivors and caregivers are then able to find their own voice to lift others up and advocate for future cancer warriors.
What gives you hope?
First and foremost, my mom gives me HOPE about the future of lung cancer.  Her unwavering courage, fight, and zest for life has shown me that there is life after a lung cancer diagnosis.  Through her journey, I have made lifelong friends – my fellow moderators and caregivers that I have met through LUNGevity's Survivorship Conference, all provide the continued HOPE that one day no child will have to watch their parent suffer due to lung cancer.
Related Reading:
---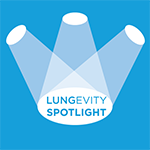 LUNGevity Spotlight is a way to highlight people living with lung cancer, caregivers, volunteers, and fundraisers who are making a positive impact in the LUNGevity community. We hope that their stories will inspire and encourage many more to get involved.
If you know someone in the LUNGevity community whom you'd like us to Spotlight, please nominate them here.