Posted on May 5, 2020 - 3:44pm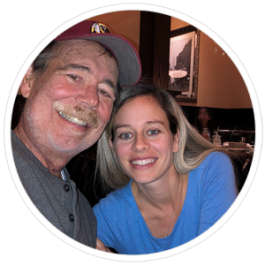 Christen Gjeldum has participated and helped to raise thousands of dollars the past three years at the LUNGevity's Breathe Deep Columbia walk. She does this for her hero, her dad, Carlos Pena-Ariet, who is 68 years old. He is a three year, three month stage IV lung cancer survivor. He has also had leptomeningeal disease for the duration of his diagnosis. He is the perfect example of a fighter and a warrior. He was born in Cuba and came to this country when he was 10. Christen was born here in Maryland and worked 9 years right out of college as a high school physical education and health teacher. Currently, she is a real estate agent with Keller Williams. She is married to her wonderful husband Ted, and they have three boys together with another boy on the way. She is so thankful for LUNGevity as they were there for her when she was the most lost in this process.
Have you had to deal with stigmas or misconceptions associated with lung cancer? If so, how have you dealt with that?
I have dealt with the stigma or misconception associated with lung cancer. Especially in the beginning of all of this back in 2017. People who we were close with wanted to make sense of why my dad had lung cancer. They just assumed he was a prior smoker or his parents smoked growing up. Neither are true. Others thought that he must have gotten lung cancer from radon, which was also not the case. Don't get me wrong, all those same people were willing to help our family and were just so caring. It just was interesting to me that they just assumed how my dad got lung cancer. I was thinking they wanted to make sense of it in order to make themselves feel better or not be as scared of getting it themselves one day. As we know, anyone with lungs can get lung cancer. I can't say that if I were in their shoes I wouldn't be guilty of assuming the same thing. Being on this side has taught me a lot of how to approach people who have chronic illnesses.
When someone asks you about your experience with lung cancer, what do you want to tell
them?
I tell them that I don't wish this disease on anyone. My dad at the age of 65—who was playing basketball with 30-year-olds twice a week a month before diagnosis—gets diagnosed with lung cancer? It just felt like the rug got pulled out from under us. He went from what seemed to be his healthy self to then a diagnosis of stage IV lung cancer and LMD a few weeks after his initial diagnosis.
To look at the bright side, though, even though I wish my dad didn't have this terrible disease, it has led us to be closer as a family. We also have been able to make this test our family testimony. God has performed so many miracles along this journey and never ceases to amaze us. We can hold tight to the fact that He is in control, no matter what the experts say. We have been told numerous times in the last three years and three months that my dad wouldn't be around much longer. Well, he is here, he is fighting, and he won't give up his fight. The medical staff that we have encountered have been a real blessing to our family. Again, all part of Gods plan. I do miss the way things were, but I try to remember to focus on the here and now as that is all we are promised.
If you could give any advice or words of wisdom to a new caregiver, what would it be?
Remember that as amazing as the doctors and nurses can be, they really don't know sometimes how long someone has to live or what really will happen next. Cancer is just so complex and each person's case is so different that even the best of the best can't always predict the outcome. You MUST keep the faith and the hope, and you must fight for your loved one. Do not be afraid to speak up for them, ask questions, email, do whatever you need to do to never leave any stoned unturned. It isn't easy, but it is possible!
I would also highly recommend getting plugged into LUNGevity and the lung cancer groups on Facebook, which have been a huge blessing to our family. I would say to take care of yourself as best as you can. My poor mother lives and breathes taking caring of my dad every day. She pours her heart and soul into every minute of every day. After all, he is the love of her life. I often tell my mom though that she needs to take time for herself even if that means laying down and taking a nap next to him or going for a walk around the block. It doesn't mean she has to go out with friends, etc if that's not where she wants to be. That's where having a larger support system comes in handy. We are blessed to have such a close family. This disease can be very unpredictable at times, both in good and bad ways so you need a support system as a caregiver in order to really help your loved one.
What gives you hope?
This question made me tear up. God gives me hope. I know that He holds it all. I cling to the verse Hebrews 11:1: "Now faith is the substance of things hoped for the evidence of things not seen." I honestly don't know how people go through this Journey not being connected to Him. Either way, He is there and helping you along the way.
My dad also gives me great hope. My dad is my absolute hero. He is my fun, handsome, funny, loving, Cuban dad! When he walks into a room, he just lights it up. His presence just makes people feel good and happy inside. He is everyone's best friend and makes everyone he meets feel important and special. He is also a fighter and a warrior. He said that he would never give up this fight, and we believe him. My dad has been through hell and back, but seeing him "show up" each and every day gives me and my family the hope we need. My mom also gives me hope as she as the main caregiver and is relentless. I really don't know what my dad would do without my angel of a mother. We are blessed even in this hard time. You just have to find the good, it's there even in the darkest days...you just have to look.
---
LUNGevity Spotlight is a way to highlight people living with lung cancer, caregivers, volunteers, and fundraisers who are making a positive impact in the LUNGevity community. We hope that their stories will inspire and encourage many more to get involved.
If you know someone in the LUNGevity community whom you'd like us to Spotlight, please nominate them here.
Blog category:
Spotlight
-> Caregiver spotlight