Posted on December 19, 2019 - 1:11pm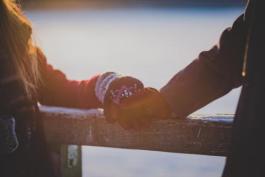 The holiday season is busy and stressful under the best of circumstances. This can be even truer for lung cancer patients and their loved ones, who are juggling not only the pressure of the holidays but also the management of their disease.
If you have a family member or friend who is facing cancer, there are many ways to help them feel loved and supported this holiday season.
1. Consider forgoing gifts
The holidays can still be festive and bright without hundreds of dollars worth of gifts. Many people receiving treatment are spending tens of thousands of dollars on their care throughout the year on top of their every day expenses. Your loved ones might be relieved to not have to find time to buy and spend money on gifts this holiday season. If you would like to give your friend or family member a gift, consider some of these ideas.
2. Raise money for research
If you'd like to give the gift of hope, consider raising money for cancer research. This can be an incredibly meaningful gesture that will also make a larger impact. There are plenty of ways to fundraise, whether you want to do something creative , involve your community, or simply start a page in your loved one's honor.  Learn how you can raise money for lung cancer research with LUNGevity on our website.
3. Lend a helping hand
Cancer treatment can be a full-time job. It's hard to keep up with cleaning, yardwork, and other chores on top of everything else going on in life. Providing assistance with every day tasks can mean more than you know. You can also offer to take some of the burden off holiday decorating if your friend or family member loves to make their home festive during the holidays; helping with indoor trimmings and decorations or outdoor lights and displays can bring your loved one some holiday cheer without the exhausting of doing it themselves.
No matter what you offer to lend a hand with, your loved one will be grateful to have one less thing on their plate and to be able spend time with you.
Create new traditions
Cancer and the treatment of the disease can result in fatigue for cancer patients. While they may want to maintain all the holiday rituals and traditions, they might not have the energy to keep up with it all. The real spirit of the holidays comes from being present with family and friends, no matter how simple the celebration. Pick the most important traditions to stick with and then establish new, less exhausting traditions so you and your loved ones can still spend time together without it being too draining.
Stay home if you're sick
Those undergoing cancer treatment often have a weakened immune system, which can increase their risk of contradicting illnesses and may result in more serious complications. If you are feeling any symptoms of sickness, be sure to stay home to avoid spreading the illness. Also be sure to get a flu shot to prevent the spread of the virus. For more about why you should get a flu shot, read our recent blog post.
Make memories
No matter what you choose to do this holiday season, it's important to make memories with the ones you love. Don't assume your loved one does not want to enjoy the holidays. Reach out to them and ask how they would like to make the most of this season. Make your time together count. Your loved one will appreciate the time spent and your efforts in really showing up for them.
Related Reading:
Blog category:
From the community
-> Get involved
-> Survivorship