Ambassador Brinker, Former NFL Linebacker Chris Draft, and Lung Cancer Community Share Message of Hope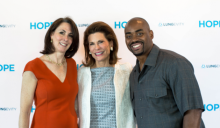 WASHINGTON (May 2015) — LUNGevity hosted its fifth annual National HOPE Summit in Washington, DC, to celebrate the extraordinary research changing outcomes for the lung cancer community. With over 250 people in attendance, the 2015 Summit was the largest gathering of survivors yet, a testament to the remarkable progress in treatment options available.
Ambassador Nancy Brinker, founder of Susan G. Komen, gave the keynote address, applauding the constantly growing and improving toolkit in the fight against cancer. While she noted the difficult funding environment, she also addressed the inspiring research progress that means every discovery brings us closer to a cure. "We are now entering one of the most exciting times of cancer research," she announced.
John Poirier, PhD, of Memorial Sloan Kettering Cancer Center, recipient of one of LUNGevity's 2014 Career Development Awards, and other researchers present at the Summit were equally optimistic.
"Each new discovery comes faster than the last discovery. The phones in our pockets are faster than any computers they took to the moon," Dr. Poirier said, noting the exponential pace of technology and research progress, from the advent of genome mapping to targeted therapy and precision medicine to immunotherapy. "We can do more with every dollar. We can do more with every hour."
After hearing Dr. Poirier's speech, a ten-year lung cancer survivor in attendance shared: "I'm one of the positive responders in the clinical trial you presented. I was the fourth person in the world to try crizotinib." Noting the remarkable progress in lung cancer research, she continued. "Now anything is possible."
"This year's National HOPE Summit was the largest yet. LUNGevity is thrilled and inspired to facilitate and witness researchers who conduct critical lung cancer projects uniting with the growing number of survivors who have benefitted from the research," said Andrea Ferris, president and chairman of LUNGevity Foundation. "The strength of survivor numbers coupled with the influx of exciting progress has ignited a new level of hope in the lung cancer community, both for today and for what is on the horizon. The survivors' bravery and optimism remind us of the strides we've made in the last few years and why we work so hard to continue funding research to make a world where no one dies of lung cancer."
Former NLF linebacker and co-founder of Team Draft, Chris Draft, closed the summit, sharing his enthusiasm for building awareness and advocacy for lung cancer research and survivorship, and the many reasons to be hopeful. Draft became a strong voice and advocate for the lung cancer community after he lost his wife to stage IV lung cancer just one month after their wedding. He has remained a passionate supporter and collaborator ever since, even awarding special grants to lung cancer survivors to attend LUNGevity's National HOPE Summit in Washington, DC.
For more information on LUNGevity Foundation, please visit www.LUNGevity.org.
Photo Caption (left to right): LUNGevity President Andrea Ferris; Susan G. Komen founder Ambassador Nancy Brinker; and former NFL linebacker and Team Draft co-founder Chris Draft at LUNGevity's National HOPE Summit, celebrating the research inspiring hope in the lung cancer community.
About Lung Cancer
1 in 15 Americans will be diagnosed with lung cancer in their lifetime
More than 221,000 people in the U.S. will be diagnosed with lung cancer this year
About 60%-65% of all new lung cancer diagnoses are among people who have never smoked or are former smokers
Lung cancer takes more lives than the next three cancers (colorectal, breast, and prostate) combined
Only 17% of all people diagnosed with lung cancer will survive 5 years or more, BUT if it's caught before it spreads, the chance for 5-year survival improves dramatically
About LUNGevity Foundation
LUNGevity Foundation is firmly committed to making an immediate impact on increasing quality of life and survivorship of people with lung cancer by accelerating research into early detection and more effective treatments, as well as by providing community, support, and education for all those affected by the disease. Our vision is a world where no one dies of lung cancer. For more information about LUNGevity Foundation, please visit www.LUNGevity.org.