Marquis brings valuable marketing experience to support LUNGevity's strategic growth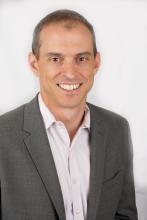 WASHINGTON, DC (March 14, 2018) — LUNGevity Foundation, the nation's leading lung cancer-focused nonprofit organization, today announced the addition of the President of Vogue International, a Johnson & Johnson Company, Michael Marquis to its Board of Directors. Working together with other global leaders on the Board, Marquis will lend his knowledge and passion to further LUNGevity's work of changing outcomes for people with lung cancer.
 "We are excited and honored that Michael is joining our board," said Andrea Ferris, president and CEO of LUNGevity Foundation.  "His long track record as an innovative leader at J&J, and his insight into how people view their health options, will be a tremendous benefit to the Foundation's ability to reach key audiences."
"After losing my mother to lung cancer in 2014, I became painfully aware of the work that was needed in the lung cancer space. I was excited to work with LUNGevity over the past few years to hone their marketing messaging," said Marquis.  "I have a deep appreciation for the work that LUNGevity does and I am honored to have this opportunity to help lay the strategic groundwork for the years of progress that are ahead of us."
Michael was appointed President of Vogue in 2016 and tasked with completing a seamless merger into J&J while plotting a path for Vogue's growth. As a valued member of the North American Leadership Team at J&J, he works in partnership with the other consumer brands to contribute to the advancement of human health in conjunction with the Credo of Johnson & Johnson. 
In 2014, Michael took on the leadership of the portfolio of businesses including iconic brands LISTERINE® and BAND-AID®. By focusing on core priorities and establishing a culture of health and learning, he was able to grow market shares of key product lines and build a team of leaders for the future.
Prior to that, Michael was responsible for the Global Oral Care Franchise at J&J, where he headed up global strategy, marketing, innovation and business development into emerging markets.
Mr. Marquis graduated from Bucknell University with a bachelor's degree in accounting.
 
About LUNGevity Foundation
LUNGevity is the nation's leading lung cancer organization investing in lifesaving, translational research and providing support services and education for patients and caregivers. LUNGevity's goals are three-fold: (1) accelerate research to patients, (2) empower patients to be active participants in their treatment decisions, and (3) remove barriers that patients face in accessing the right treatments.
LUNGevity Foundation is firmly committed to making an immediate impact on increasing quality of life and survivorship of people with lung cancer by accelerating research into early detection and more effective treatments, as well as by providing community, support, and education for all those affected by the disease. LUNGevity's comprehensive resources include a medically vetted website, a toll-free HELPLine in partnership with CancerCare®, a unique Lung Cancer Navigator app, peer-to-peer mentoring for patients and caregivers (LUNGevity LifeLine), and survivorship conferences. LUNGevity also helps patients find and navigate clinical trials through our Clinical Trial Finder tool, a Clinical Trial Ambassador program, and participation with EmergingMed.
Our vision is a world where no one dies of lung cancer. For more information about LUNGevity Foundation, please visit www.LUNGevity.org.
About Lung Cancer in the U.S.
About 1 in 16 Americans will be diagnosed with lung cancer in their lifetime
More than 222,000 people in the U.S. will be diagnosed with lung cancer this year
About 60%-65% of all new lung cancer diagnoses are among people who have never smoked or are former smokers
Lung cancer takes more lives than the next three leading cancers (colorectal, breast, and prostate) combined
Only 18% of all people diagnosed with lung cancer will survive 5 years or more, BUT if it's caught before it spreads, the chance of 5-year survival improves dramatically