Healthcare advocate Nicole Martin hired as Director of Precision Medicine Initiatives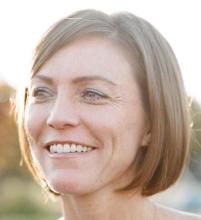 WASHINGTON, DC (June 29, 2018) — LUNGevity Foundation, the nation's leading lung cancer-focused nonprofit organization, announced today that Nicole (Nikki) Martin, a longtime healthcare and diagnostic professional, joined the Foundation as the Director of LUNGevity's Precision Medicine Initiatives.
LUNGevity has long been committed to accelerating precision medicine and ensuring patient access to it. Personalized medicine is more important than ever with the identification of new biomarkers, improved testing methods to detect known biomarkers, and the rapidly evolving landscape of lung cancer therapy.
"We are thrilled that Nikki Martin will be joining the LUNGevity team," Andrea Ferris, president and CEO of the Foundation, says. "With her industry experience and expertise, she will elevate our current work in precision medicine."
As Director of Precision Medicine Initiatives, Nikki will manage LUNGevity's major precision medicine initiatives, including the Take Aim initiative. Take Aim, which began in 2015, works to ensure that patients have access to biomarker testing and that it is reimbursed in order to help guide their treatment decisions in a timely way. Nikki will also spearhead relationship building to form coalitions and break down silos to improve patient and healthcare provider education and access to precision medicines.  With Nikki steering the progress of this initiative, LUNGevity will continue to make positive strides forward in breaking down barriers to patient access to biomarker testing.
Nikki Martin has worked on healthcare issues advocacy for more than 15 years. Her years of experience will be invaluable in her new role as she focuses on accelerating access to personalized healthcare for lung cancer patients. Prior to joining LUNGevity, Nikki worked in Alliance & Advocacy Relations at Genentech where she championed awareness of unmet needs and driving change in the patient community. She led advocacy outreach around Next Generation Sequencing and CMS' 14-day rule and expanding collaboration between CME providers and advocacy groups on provider and patient education on shared decision making.
About LUNGevity Foundation
LUNGevity is the nation's leading lung cancer organization investing in lifesaving, translational research and providing support services and education for patients and caregivers. LUNGevity's goals are three-fold: (1) accelerate research to patients, (2) empower patients to be active participants in their treatment decisions, and (3) remove barriers that patients face in accessing the right treatments.
LUNGevity Foundation is firmly committed to making an immediate impact on increasing quality of life and survivorship of people with lung cancer by accelerating research into early detection and more effective treatments, as well as by providing community, support, and education for all those affected by the disease. LUNGevity's comprehensive resources include a medically vetted website, a toll-free HELPLine in partnership with CancerCare®, a unique Lung Cancer Navigator app, peer-to-peer mentoring for patients and caregivers (LUNGevity LifeLine), and survivorship conferences. LUNGevity also helps patients find and navigate clinical trials through our Clinical Trial Finder tool, a Clinical Trial Ambassador program, and participation with EmergingMed.
Our vision is a world where no one dies of lung cancer. For more information about LUNGevity Foundation, a four-star Charity Navigator organization, please visit www.LUNGevity.org.
About Lung Cancer in the U.S.
About 1 in 16 Americans will be diagnosed with lung cancer in their lifetime
More than 234,000 people in the U.S. will be diagnosed with lung cancer this year
About 60%-65% of all new lung cancer diagnoses are among people who have never smoked or are former smokers
Lung cancer takes more lives than the next three leading cancers (colorectal, breast, and prostate) combined
Only 19% of all people diagnosed with lung cancer will survive 5 years or more, BUT if it's caught before it spreads, the chance of 5-year survival improves dramatically