Friend's Death Inspires Rawitch to Coordinate MLB Support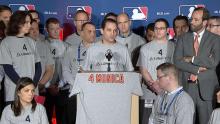 WASHINGTON, September 2015 – LUNGevity Foundation names Josh Rawitch, public relations director of the Arizona Diamondbacks, the September LUNGevity Hero for his role championing lung cancer awareness. Rawitch coordinated Major League Baseball's (MLB) annual Winter Meetings Auction to raise funds exclusively for lung cancer research in tribute to an MLB colleague.
Rawitch and his fellow MLB public relations director Monica Barlow were good friends – she was only 36 years old when she died of lung cancer last year. Josh turned his grief into action, rallying the MLB family to focus on lung cancer for the Winter Meetings Auction with the goal of making a difference for others diagnosed with the disease. Through Josh's encouragement and leadership, MLB named LUNGevity the sole beneficiary of the Winter Meetings Auction. The funds raised from once-in-a-lifetime auction items (e.g., bring a baseball player to work, receive pitching lessons from players and coaches, etc.) will support critical lung cancer research, and individual teams helped create awareness through their local media as they fulfilled the auction winners' dreams. The auction broke records, raising $176,000 for critical, lifesaving lung cancer research, more than any previous auction year.
"It is extremely humbling to have my name associated with LUNGevity's great work. This incredible non-profit meant so much to our late colleague, Monica Barlow," shared Josh Rawitch. "This is really an honor for all of the communications people around Major League Baseball who put together a record-setting fundraiser during last year's Winter Meetings to raise such significant funds that we hope will help us find a cure for this terrible disease."
"We are both grateful for and inspired by Josh Rawitch's extraordinary work. His friendship and support are the catalyst for Major League Baseball earning its place in history as the first sports league to champion the lung cancer community," said Andrea Ferris, president of LUNGevity Foundation. "Every person who joins us in the fight against lung cancer changes the future of those diagnosed, accelerating game-changing research studies that allow us to detect lung cancer quicker and treat it more effectively."
For more on Josh Rawitch and MLB's involvement in LUNGevity and lung cancer research, see the LUNGevity Heroes blog at www.lungevity.org/heroes-blog.
For more information on LUNGevity Foundation, please visit www.LUNGevity.org.
About Lung Cancer
1 in 15 Americans will be diagnosed with lung cancer in their lifetime
More than 221,000 people in the U.S. will be diagnosed with lung cancer this year
About 60%-65% of all new lung cancer diagnoses are among people who have never smoked or are former smokers
Lung cancer takes more lives than the next three cancers (colorectal, breast, and prostate) combined
Only 17% of all people diagnosed with lung cancer will survive 5 years or more, BUT if it's caught before it spreads, the chance for 5-year survival improves dramatically