Attendance Doubled and Over $115,000 Raised to Fight Lung Cancer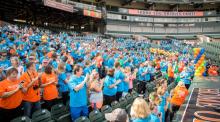 WASHINGTON, DC, September 22, 2014 -- LUNGevity Foundation's Breathe Deep Baltimore walk last Saturday at Oriole Park at Camden Yards was a great success, bringing together 1,020 participants, double the number from last year, and raising over $115,000 for critical lung cancer research, surpassing this year's goal. LUNGevity Foundation was joined by Baltimore residents, the lung cancer community, and Orioles manager Buck Showalter and his wife, right fielder Nick Markakis and his wife, catcher Matt Wieters, reliever Darren O'Day, head athletic trainer Richie Bancells, and assistant athletic trainer Brian Ebel.
The Baltimore community rallied in honor of Monica Barlow, former Orioles public relations director who passed away in February from lung cancer at the young age of 36, and the memory of many who have faced lung cancer, the nation's number one cancer killer. Emcee Jim Hunter, broadcaster for the Baltimore Orioles on Mid-Atlantic Sports Network, introduced the event, and fifth grade Orioles super-fan Cole Baldwin and Baltimore mascot the Oriole Bird, with the new division-winning banner in hand, kicked off the walk, leading the community from the edge of Maryland Square to the dirt on the Oriole field.
After the 5k, the crowd welcomed remarks from Andrea Ferris, president and chairman of LUNGevity Foundation, and other LUNGevity staff members; Ben Barlow, Monica's husband; lung cancer survivor Keith Humphries; and Orioles manager Buck Showalter. Each spoke about the importance of raising awareness of the disease and funds for lung cancer research, noting the remarkable progress that has been made in the last several years.
About LUNGevity Foundation
LUNGevity Foundation is firmly committed to making an immediate impact on increasing quality of life and survivorship of people with lung cancer by accelerating research into early detection and more effective treatments, as well as by providing community, support and education for all those affected by the disease. Our vision is a world where no one dies of lung cancer. For more information about LUNGevity Foundation, please visit www.LUNGevity.org.