Nick Markakis partners with LUNGevity Foundation through 108Stitches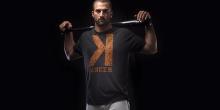 WASHINGTON, August 29, 2014 -- On Tuesday, September 2, Baltimore Orioles rightfielder Nick Markakis will step up for lung cancer during Major League Baseball's first-ever Strike Out Cancer Day in tribute to Monica Barlow, former public relations director of the Orioles, who lost her life to lung cancer in February after a four and a half year battle. She was 36 years old. Markakis, in partnership with 108Stitches, is supporting LUNGevity Foundation, the nation's leading lung cancer nonprofit. Throughout her illness, Monica served as a spokesperson for LUNGevity to raise awareness of lung cancer, the nation's top cancer killer, and the importance of funding promising, groundbreaking research.
The "Let's Strike Out Cancer" initiative was started by St. Louis Cardinals relief pitcher Jason Motte to help people directly affected by cancer. Each MLB player's tee-shirt, displaying the backwards K, baseball notation for a "strikeout," raises awareness for a different cancer-related charity. For each shirt sold, $5 will go to the Jason Motte Foundation and $5 to the player's choice charity. Fans attending baseball games on September 2 are encouraged to wear their StrikeOut Cancer shirts and use #KCancer14 on social media to support the initiative.
To purchase the special Nick Markakis "Strike Out Cancer Tee," please visit: http://www.108stitches.com/Gear/Detail_KCANCER/NICK-MARKAKIS-STRIKE-OUT-CANCER-TEE/02-99064/#.U_ID4PldXmt

Markakis isn't the only Oriole getting involved in honor of Monica – first baseman Chris Davis has pledged to donate $100 to LUNGevity Foundation for every home run he hits this season. Last season, Davis hit 53 home runs.
"Thank you to the Baltimore Orioles for the many ways they are supporting the fight against lung cancer," said Andrea Ferris, president and chairman of LUNGevity. "LUNGevity Foundation is grateful that Nick Markakis and Chris Davis have chosen to support lung cancer research in honor of Monica.  By taking a stand against cancer, every baseball player and fan can be an agent of extraordinary change."
On Saturday, September 20, you too can join LUNGevity and the Baltimore Orioles at LUNGevity's Breathe Deep Baltimore, a day of activities that raise awareness and critical funds for lung cancer research.  In the morning, walk the LUNGevity 5k at Camden Yards with the last lap around the field, ending near the dugout, and that evening, attend the Orioles game against the Boston Red Sox. Register at the following link: http://events.lungevity.org/site/TR?fr_id=4610&pg=entry.
For more information on LUNGevity Foundation, please visit www.LUNGevity.org.
About Lung Cancer
1 in 14 Americans is diagnosed with lung cancer in their lifetime
More than 224,000 people in the U.S. will be diagnosed with lung cancer this year
About 60% of all new lung cancer diagnoses are among people who have never smoked or are former smokers
Lung cancer kills more people than the next three cancers (colorectal, breast, and pancreatic) combined
Only 17% of all people diagnosed with lung cancer will survive 5 years or more, BUT if it's caught before it spreads, the chance for 5-year survival improves dramatically
About LUNGevity Foundation
LUNGevity Foundation is firmly committed to making an immediate impact on increasing quality of life and survivorship of people with lung cancer by accelerating research into early detection and more effective treatments, as well as by providing community, support, and education for all those affected by the disease. Our vision is a world where no one dies of lung cancer. For more information about LUNGevity Foundation, please visit www.LUNGevity.org.