We hope you'll take the opportunity to record and share your thoughts on the issues that matter to the lung cancer community. We'll ask new questions each week for Lung Cancer Awareness Month, and every month afterward, so come back and visit again!
Here's how to add the LUNGCAM effect to your Facebook story:
1.   Using your mobile device, tap to open the effect in your Facebook mobile app camera.
2.   The LUNGCAM logo should appear in the lower right side of the screen. If it does, go to the next step.
If the LUNGCAM logo does not appear, click the Magic Wand icon and scroll through the camera effects until you see it:



Then tap the LUNGCAM logo.
3.   Select VIDEO. Flip the camera to face you.
4.   Ready? Now tap the Record button (the white circle with a red dot in the middle). And ...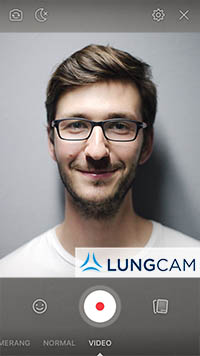 Here's what it should look like when you're ready to record.
5.   Go! Introduce yourself and answer one of this week's questions:
What do you want people to know about lung cancer?
or
How would you describe your caregiver?
6.   Share your story and encourage your family, friends, and social network to record their own LUNGCAM video!
Tips:
Facebook Stories have to be 20 seconds or less, so try to keep it short and sweet!
Practice what you want to say a few times before you hit record.
If you want us to share your video on our Facebook page, please email it to lhumphries@lungevity.org.