Throughout November for Lung Cancer Hope Month, we'll be sharing inspiring stories about people who are working to change outcomes for those who are impacted by lung cancer. There are many ways for you to share your story and raise public awareness about lung cancer.
1.   Add the LUNGevity LCAM Facebook Frame to your profile picture, or open the LUNGevity LCAM Camera Effect and snap a new photo or record a video!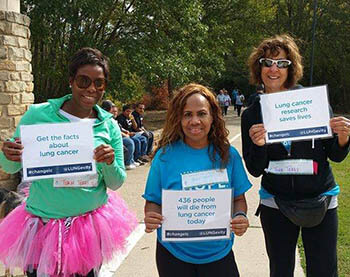 2.   Download and print a lung cancer fact sign or use the template to create your own. Tell us how you're raising awareness about lung cancer or making a difference for people living with the disease.
Take a photo of yourself or your friends and family holding your signs and share it on social media using the hashtag #changelc and tag @LUNGevity.
3.   Spread awareness with painted rocks! Join Rayna Pitko and other advocates: "Paint a rock and put #LCROCKS on the back. Then hide your rock in plain sight when you're out and about," says lung cancer survivor Rayna."We are doing it to spread joy and lung cancer awareness. The hashtag will be promoted on Twitter and Instagram so people who search for its meaning will learn about lung cancer."
Then post a photo of your rock on our Facebook group!
4.   Take a photo of you with your LUNGevity "Bandy" (cure lung cancer wristband) and post it to social media and tag @LUNGevity. Don't have a Bandy yet? Request one today.
5.   Share your story on LUNGevity's blog! Submit your story and we may spotlight it on LUNGevity's social media during Lung Cancer Awareness Month!
6.   Make a short public video telling the story of how lung cancer has impacted your life and how you are actively making a difference! Share it with your social network. We might highlight your video on our Foundation page. Share other people's lung cancer stories. Read the stories of how others are living with lung cancer and/or making an impact against this disease. Share the stories that inspire you and give you hope and ask others to share them too!