Large cell lung cancer is a subtype of non-small cell lung cancer.
These cells do not clearly look like adenocarcinoma or squamous cell lung cancer under the microscope. Large cell lung cancers are distinguished from small cell by the larger size of the cells.1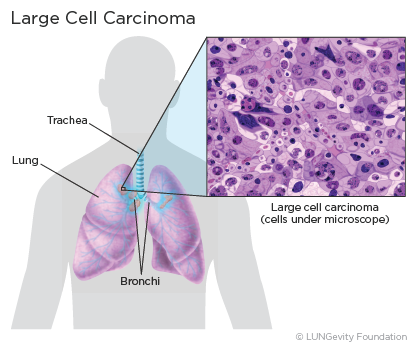 In the past, about 10% of all lung cancers were classified as large cell. However, as more exact ways of diagnosing lung cancer have come into use, this percentage is dropping. Many lung cancers that would have been considered large cell in the past are now being identified as adenocarcinoma or squamous cell lung cancer. Having this additional information is important for choosing treatment options.
This type of lung cancer can be found anywhere in the lung, although it is more often found in the periphery. The majority of large cell lung cancers are found in men.1
Updated January 3, 2018
Reference