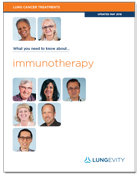 To help you understand and share this information, you can request our free booklet that summarizes the detailed information in the following sections.
Immunotherapy for lung cancer is a type of treatment that aims to enhance the body's immune response and stop the lung cancer from evading the immune system.
Find out more about how the immune system works, how treatments to boost it can help fight lung cancer, and whether participating in a clinical trial using immunotherapy might be a good option for you.
What is the immune system?
How does the immune system work?
What is the role of the immune system in cancer?
What is immunotherapy?
Immune checkpoint inhibitors
What new immune checkpoint inhibitors are currently being tested?
Therapeutic cancer vaccines
Adoptive T cell transfer
Finding a clinical trial that might be right for you
Questions to ask about clinical trials
Updated June 18, 2020
References