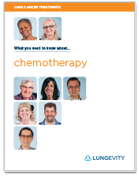 To help you understand and share this information, you can request our free booklet that summarizes the detailed information in the following sections.
Discussed in this section is traditional, or standard, chemotherapyTreatment that uses drugs to stop the growth of cancer cells, either by killing the cells or by stopping them from dividing. Chemotherapy is a treatment that uses drugs to stop the growth and division of tumor cells. While each patient responds differently to chemotherapy drugs, chemotherapy treatment can shrink lung cancer tumors, alleviate lung cancer symptoms, and extend life.1  Chemotherapy can be used at all stagesThe extent of cancer in the body of lung cancer and for both non-small cell lung cancer (NSCLC)A group of lung cancers that are named for the kinds of cells found in the cancer and how the cells look under a microscope and small cell lung cancer (SCLC)An aggressive (fast-growing) cancer that forms in tissues of the lung and can spread to other parts of the body. The cells look small and oval-shaped when looked at under a microscope..
Chemotherapy has been used as a cancer treatment for many years and remains important despite the addition in recent years of newer types of drug treatment—targeted therapiesA type of treatment that uses drugs to identify and attack specific types of cancer cells with less harm to normal cells, angiogenesis inhibitorsDrugs given during cancer treatment to prevent the growth of new blood vessels that tumors need to grow, and immunotherapyA type of therapy that uses substances to stimulate or suppress the immune system to help the body fight cancer, infection, and other diseases—that attack cancer in a different way. Chemotherapy may be used as a single drug or in combination with other chemotherapy drugs, in combination with some of the newer treatments, and with surgery and radiation therapyThe use of high-energy radiation from X-rays, gamma rays, neutrons, protons, and other sources to kill cancer cells and shrink tumors to make them more effective.1 Your healthcare team will help to select the best treatment based on your medical history, your overall health and any other medical problems, the stage of your lung cancer, and your preferences.
How does chemotherapy work?
How chemotherapy drugs differ from targeted therapy and immunotherapy drugs
How is chemotherapy administered?
Preparing for chemotherapy treatment
Goals of lung cancer chemotherapy
Commonly used chemotherapy drugs
When is chemotherapy given for lung cancer?
Why there are side effects from chemotherapy drugs
Common side effects of lung cancer chemotherapy
Managing the side effects of lung cancer chemotherapy
 What clinical trial options are available?
Why do I need chemotherapy?
What are the advantages and disadvantages of chemotherapy for me?
How successful is chemotherapy for my type of cancer?
Are there any other treatments I can have instead?
How much does treatment cost?
What drugs will I be receiving? How will they be given?
How often will I receive this treatment? How long will I have treatment?
Where will I have the chemotherapy? Can I have it close to where I live?
What are the possible side effects of this treatment and what can I do to control them?
Are there any complementary therapies that will help?
How will I know if the treatment is working?
Will chemotherapy affect my sex life and fertility?
After treatment has finished, will I need checkups?
Who should I contact for information or if I have a problem during treatment? Who is my after-hours contact?
Updated June 17, 2020
---
References