For some types of lung cancer, biomarkers tests can be performed to provide information about whether there is a mutation, or change, in the cancer cells that can be treated with drugs that specifically target this mutation.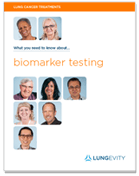 To help you understand and share this information, you can request our free booklet that summarizes the detailed information presented here. (Published in January 2018)
We strongly advocate that people diagnosed with advanced-stage non-small cell lung cancer speak with their doctor about comprehensive biomarker testing.
The Targeted Therapy section of this website discusses biomarker testing and explains:
For a handy reference, download the flyer below and share it with your family and healthcare providers; the download has useful "quick facts" as well.