Posted on April 4, 2018 - 7:30am
This sounds so cliché, but in this case so true; Chip was a friend that everyone wanted. He was there when you needed him, reeled you in when you got out of hand, but most importantly made you laugh when you needed it most.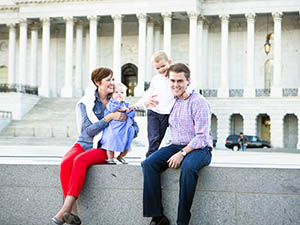 Chip Kennett (right) with his wife, Sheila, and their kids Joe and Crosby in 2015.
I still remember vividly where I was and what I was doing when I got those two phone calls that no one wants to receive – the first telling me that he had stage IV lung cancer and the second that he had passed away.
Chip and I knew each other from childhood, we shared many things – hometown, elementary school, high school, group of friends, love of sports, college – we even had the same middle name (Winslow)! We spent many hours at Chip's house growing up and his parents, Bayard and Theresa Kennett, along with his brother, Tanner, took us all in – his family became everyone's family! The Kennett household was a popular hangout spot where we always felt welcome.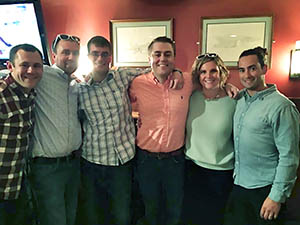 Chip celebrating his two-year cancerversary with friends in October 2014. Left to right: Chris Smith, Trevor MacDonald, Tanner Kennett, Chip Kennett, Kristen Umlah, Jason Greenblatt.
Chip Kennett was a wonderful person with a kind heart, great sense of humor, and strong work ethic. Although he never smoked a day in his life, Chip was diagnosed with non-small cell lung cancer in 2012. He passed away in 2015 leaving behind his wife, Sheila, and two small children, Joe and Crosby.
In October 2012, Chip went for a routine eye exam that revealed a suspected melanoma. A scan and subsequent biopsy diagnosed Chip, then 31, with stage IV lung cancer. The disease was incurable. His prognosis: one to two years to live.
Instead of giving up, Chip became an advocate for cancer research, testifying on Capitol Hill and helping draw more attention to lung cancer, which needs additional funding to develop and bring more treatments to market. He worked with cancer organizations, including LUNGevity, to raise awareness and money. Advocates within the cancer community credit Chip's actions with pushing Congress to take action.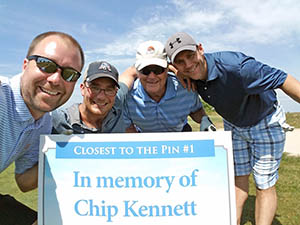 Trevor MacDonald, Tanner Kennett, Bayard Kennett, and Chris Smith at the New Hampshire State Society Annual Educational Opportunity Fund Golf Tournament. This group plays together every year!
Chip surpassed his two-year prognosis in October of 2014 and celebrated with family and friends. That same weekend, he led the largest fundraising team for the annual Breathe Deep DC walk. There were times that you saw Chip, and forgot that he had this terrible disease. There were other times that you could tell he was staying strong for his family and friends but that he was struggling on the inside. He gave it a hell of a fight!
A few years after Chip's passing, several of his closest friends decided to put on an event in his hometown, Conway, NH. We thought an alumni basketball game was a great way to get many of his childhood friends together and honor him. Chip had a lasting impact on everyone he met (which was evident by the alumni who came back, ranging from 19 – 55!) and was especially loved throughout the Mount Washington Valley.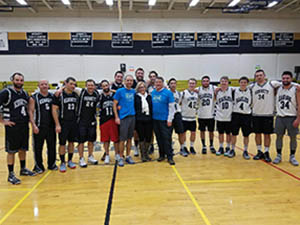 Chip's parents, Theresa and Bayard (center), with family and friends at the 2017 Kennett High School Boys Basketball Alumni Game in honor of Chip Kennett.
We partnered with LUNGevity as it was an organization that was a very important part of Chip's life after his diagnosis in 2012. Chip gave much of his time and effort in helping LUNGevity, as they were there for him at every turn. To help raise money, we encouraged all alumni who played to donate, and invited the town to come out watch the game and give to a great cause in Chip's memory. We all hope that the awareness generated along with all the money raised for LUNGevity will help another "Chip" fight this deadly disease! Lung cancer can happen to anyone, regardless of smoking history, and we need to fund research to help everyone facing a lung cancer diagnosis.
One of the hardest aspects of Chip's diagnoses and fight was seeing him with his family. Joe and Crosby were too young to understand what their father was going through, but he made every effort to stay strong throughout the tests, trials, and treatment to spend time with them and cherish every last moment. I have been fortunate enough to follow Joe and Crosby as they grow up and am amazed by how much "Chip" I see in them. They have that infectious smile, they are huge Patriots fans, and they have the same caring nature even at their young age. I know that Chip will always live within them, and that makes me smile!