Posted on August 11, 2017 - 2:48pm
What do I do now? What can I do to keep others from having to go through what my family just endured? Those were some of the words I said to myself after my mom passed away almost 11 years ago. Back then her treatment options were few and she only survived for 7 months after her initial diagnosis. It was a hazy 7 months, ones littered with hospital stay after hospital stay. When I finally came out of the haze, I realized I wanted to raise money for lung cancer research and support programs. There had to be more ways we could fight this awful disease than just chemo and radiation.
So I held a benefit dinner in my hometown in my mom's memory one year after she died. It was an emotional year- one filled with lots of firsts without my mom- but in the end, it was so uplifting. The support I received from our friends, family, and colleagues was remarkable. I never imagined that I would be able to put together such a rewarding and successful event. It really helped me to continue to see how many people my mom impacted and what she meant to them. It almost felt as though she was still alive that night through all of our guests.
It also was what introduced me to LUNGevity- they were the beneficiary for my event. They were so supportive in what I was trying to achieve- and it really felt like family. They brought me in- and haven't let go since! I continued in several different roles with the organization- volunteer, board member and now staff. And my current role allows me to work with many others who are looking to do the exact same thing that I did almost 11 years ago!
People like the Bauer family who have been hosting a bake sale every Friday outside their home since 2009, and then went on to help start our Breathe Deep Cleveland walk. And Evelien Kong, who is raising money for her birthday in honor of her mom through a social media campaign using her video production skills- she wants to #makeitmeansomething! Or the Kappa Sigma Epsilon fraternity at Alfred State College who put together a charity basketball game every spring. And, of course, there are the countless volunteers around the country helping to promote our Breathe Deep walk series in their communities. All of these people are looking for ways to give back, and feel like they are doing something meaningful. Fundraising gives them an opportunity to contribute to the advancements in lung cancer research, education and support.
So, if you are like me, or any one of these other amazing volunteers, consider joining the movement. There are many ways to raise awareness and funds for lung cancer research, education and support. You can start your own campaign or join one of our events around the country! And I will gladly support you along the way!
---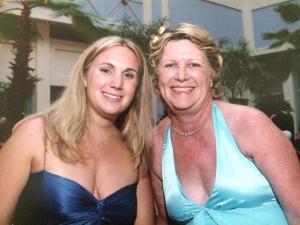 Diana Aldecoa is the Vice President of Breathe Deep Events. She served as the Volunteer Coordinator of the Breathe Deep NYC Walk from 2008 to 2010. Diana served on LUNGevity's Board of Directors from January 2009 to May 2010. In December of 2010, she joined the staff as Director of Grassroots Events.