Posted on July 24, 2018 - 12:50pm
You may have heard of the term "chemo brain" or chemo "fog".  It's a term some patients use to describe the cognitive issues and side effects resulting from chemotherapy, radiation, clinical trials and other drugs associated with cancer treatment.
Did you know that cancer caregivers can have cognitive dysfunction too? Sudden life changes, emotional distress, work and financial stresses, insomnia and medications such as anti-anxiety and anti-depressants can cause memory impairment. 
Becoming a cancer caregiver may not have been a choice for you.  You didn't know that your loved one would get cancer and becoming a cancer caregiver may not have been a choice for you.  You didn't get any caregiver training and it has probably been the most difficult job you've ever held.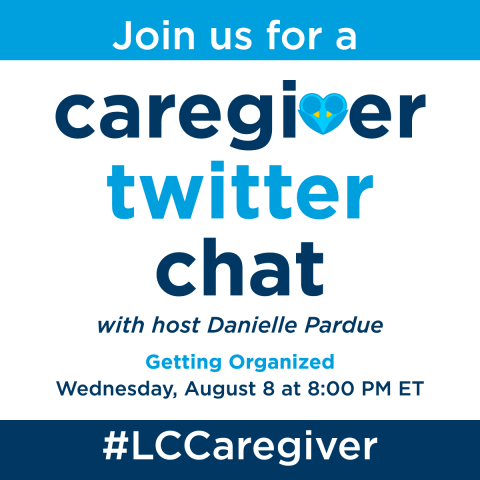 Our next #LCCaregiver Twitter Chat will focus on resources, tips, and ideas to help caregivers stay organized. 
Can you describe a time that "caregiver fog" impacted your life?
How do you help your loved one remember medications, appointments, payments, and important dates?
Are there people in the healthcare community that you rely on to help you stay organized?
There are resources that help people stay organized.  What are some resources that new caregivers would find helpful?
Join us Wednesday, August 8, at 8:00 PM ET for our next #LCCaregiver Twitter Chat.  Collectively we can share information and support those who are feeling alone.
Blog category:
Caregiving
Living with lung cancer